International Business
MSc
Programme duration:

Full-time: 12 months

Part-time: 24 months

Programme start:

September 2023

Entry requirements:

You will need a 2:1 Honours degree or equivalent in any discipline. Non-graduates with very extensive professional experience and/or other prior qualifications may also be considered.

---
Overview
The University of Liverpool Management School is one of an elite group of institutions worldwide to hold the gold standard 'triple-crown' accreditation from AACSB, AMBA and EQUIS.
The MSc International Business aims to provide students with the knowledge and systematic understanding of theoretical and practical aspects of International Business. Graduates will gain a sound theoretical grounding in the area of International Business and develop a range of analytical and personal skills.
Programme Overview
If you want to pursue a career in international management—but want to develop a more in-depth understanding of global business issues, or even study a business subject for the first time—MSc International Business is for you. The programme aims to provide a thorough understanding of management concepts as well as detailed knowledge of international business in theory and practice. You will learn and practice a range of intellectual, interpersonal and technical skills. You will also connect with practitioners and develop the business awareness and confidence required to succeed as a manager in international business.
Upon completion of the programme, you will be equipped to work within various business functions in both large and small multinational firms. The programme may also provide a stepping stone to PhD study and a career as an academic researcher in international business.
How will you benefit?
Taught by international business experts
You will undertake modules which reflect the unique expertise of our academic staff: studies of international strategy and management, including important business and management issues arising in emerging economies. Research specialisms which inform teaching on the programme include intellectual property protection systems in diverse institutional settings; the impact of geographical location (including in major cities), on the strategies and operations of multinational firms; the impact of differences in institutional systems for the strategies of multinational firms; and strategy and operations in emerging economies, including technology transfer.
Learn specialist theory
You will be exposed to current theories and practices in large and small businesses around the world. The programme develops an understanding of theoretical and conceptual frameworks that enhance understanding of the strategy and operations of multinational firms, including exporting and importing, and a wide range of different types of foreign direct investments. You will learn how cross-cultural differences influence the structure of management systems and operational functions in the wide variety of international business activities undertaken by multinational firms. The complex nature of the international business environment is examined, including the effects on international business activities of major changes to economic, technological, social, institutional and cultural environments. The influence on effective international management of the changing nature of business interactions between countries is also examined. The programme has a strong focus on emerging economies such as Brazil, China and India.
You will cover the key business topics of accounting, marketing, finance, and economics. Combined with knowledge of the key characteristics of international business environments, and international strategy, you will be able to analyse major issues in international management and deal with the challenges of the global business environment.
Gain the skills employers look for
You will develop the highly sought-after range of skills required to meet the needs of international business. Written and spoken communication skills are improved through report writing and presentation delivery, while analytical skills are honed through the use of industry-standard financial and statistical software. Crucially, you will learn cross-cultural management of business activities and people. You will develop competencies in working and negotiating in teams comprised of people with different languages, cultural and ethnic backgrounds. You will gain practical experience of cross-cultural working and strategy formulation through group work, simulation games and case studies.
Connect with international business managers
You will learn from a range of international business leaders during regular guest lectures. Speakers are drawn from multinational corporations and government and private sector agencies that support the international business activities of firms. These sessions also present you with valuable networking opportunities.
Learn more about this programme at one of our forthcoming events.
Scholarships available
The Management School will be offering a number of generous scholarships and study awards for 2022, find out more by visiting the scholarships webpage.
Win Phyo Ko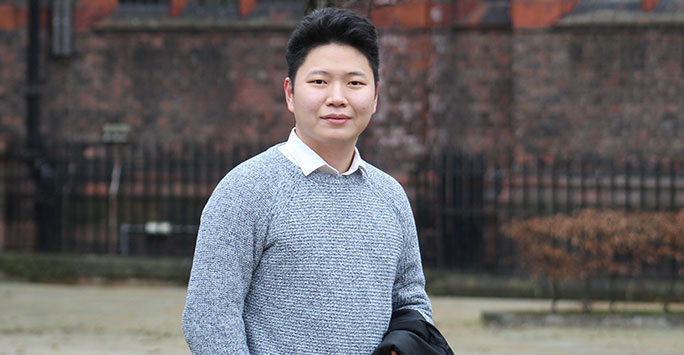 "In Liverpool, there is something for everyone. It is safe and affordable. I think it's the combination of all of those that made it Liverpool unique and ranked 2nd in the UK's friendliest cities."
Read Win's full case study
Why University of Liverpool Management School?
'Learning to make a difference'

The University of Liverpool Management School is one of an elite group of institutions worldwide to hold the gold standard 'triple-crown' accreditation from AACSB, AMBA and EQUIS.
The University of Liverpool Management School works with today's leaders in business and management to prepare its students to be the leaders of the future. The school's mission is 'Learning to make a difference' and there is a fundamental belief that the purpose of the School's research and teaching is to develop students who are not only good managers, but individuals who are truly committed to making a difference. We hope that our students will use the knowledge and skills they gain here in their future roles to help solve some of the most endemic problems individuals, enterprises and communities face.