...This was far from the truth. As this database of more than 2500 prisoners incarcerated at Cockatoo Island between 1847-69 shows.


A research project by Dr Katherine Roscoe, ESRC Postdoctoral Fellow
Cockatoo Island: the confines, comprising the scum and dregs of colonial society
– Empire (Sydney), 21 June 1861, p. 2
Cockatoo Island prisoners were mostly convicted of minor property crimes at lower courts or breaking regulations that meant they lost their 'ticket-of-leave' that allowed them to live freely in the colony.
Cockatoo Island prisoners were also a more diverse group than is usually recognised. Alongside British and Irish men, there were Aboriginal Australians punished for frontier warfare, Chinese immigrants seeking their fortunes on the gold field, and Black and Asian sailors on shore leave.
Read more about these convict lives on the Cockatoo Convicts WordPress project site.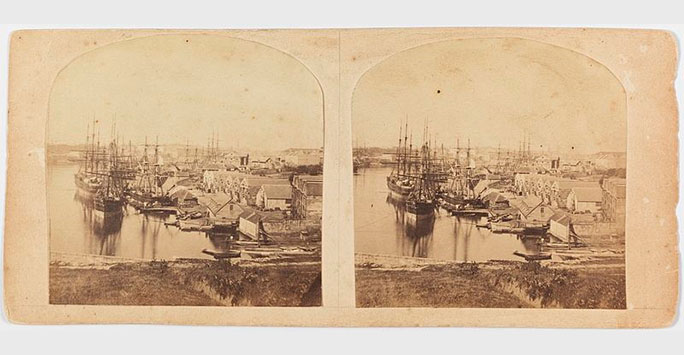 Trace your criminal ancestor
You can download the dataset of 2583 prisoners at Cockatoo Island between 1847-57 to trace your criminal ancestor, or to research the history of punishment in post-convict era Australia.
The dataset includes the following information:
prisoners name and aliases
ship and year of arrival in Australia
their 'status' upon arrival in the prison (under original sentence of transportation, free by servitude, born in the colony, free migrant)
place of origin
physical appearance (eye- and hair colour, scars, tattoos)
occupation
age
details of colonial conviction (place of trial, type of court, date of conviction, offence and sentence)
Duration of imprisonment at Cockatoo Island prison (when and where they arrived and discharged from)
under what conditions prisoners were discharged (ticket of leave, free pardon, transfer.
Data collection involved transcription (with some minor standardisation of spelling) from archival materials kept at the New South Wales State Archives (call numbers: 4/4540, 4/6501, 4/6509, 6571, 4/6572, 4/6573, 4/6574, 4/6575, X819).
Since historic record-keeping practices changed over time, not all variables are recorded consistently for all prisoners.
Our aim is to embed an interactive version of the Cockatoo Island Prisoners dataset on this project page, but in the meantime an Excel file can be downloaded below:
The project 'Criminals incapable of Reform': Cockatoo Island Prison (Sydney), 1839-69 was funded by the Economic and Social Research Council (ESRC).
Main image at top of page: Philip Doyne Vigors, 'Convicts letter writing at Cockatoo Island N.S.W. Canary Birds' (1849), Mitchell Library, Sydney.
Back to: Department of Sociology, Social Policy and Criminology