Software and Tools
General purpose software tool for Uncertainty Quantification and Risk Analysis
The institute leads the development of COSSAN-X, a general purpose software tool for Uncertainty Quantification and Risk Analysis.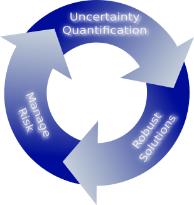 The software provides robust and reliable product life-cycle solutions, efficient and realistic analysis and optimization solutions. Ultimately, the developed analysis tools can be effectively deployed in
quality assurance of systems and components by taking into account explicitly the effect of uncertainties
reduction of development time/costs using computer experiments and efficient simulation strategies
realistic modelling and the avoidance of risk‌
Furthermore, it comes with an easy to use but powerful interface and it can interact with any 3rd party software. COSSAN-X software tool is one of the specialist toolkits available via the VEC Engineering Cloud.
For more information about the software visit the dedicate website: www.cossan.co.uk
Engineering Cloud
The VEC Engineering Cloud provides a user friendly, robust platform to enable improved access to High Performance Computing (HPC) and drive scalable simulation on a 'pay as you go' usage-based cost. The Engineering Cloud enables providers to install, maintain and rent software applications in the cloud and users can access the software based upon their demands. Additional benefits include:
Cost efficient hardware utilisation
Reliable Data Management
For more information visit the Virtual Engineering Centre website or call 01925 864853.