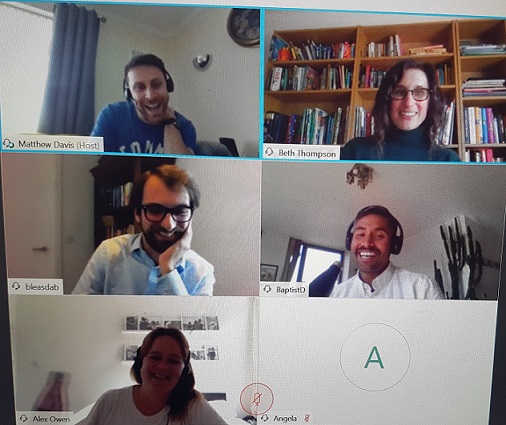 Reimagining Research
Dr Beth Thompson is Head of UK & EU Policy at the Wellcome Trust. Wellcome is a global foundation dedicated to improving health and spends £1 billion a year to support research, education and public engagement. Beth joined Wellcome in 2009 and now leads Wellcome's UK & EU policy and advocacy activities. In 2017 Beth was awarded an MBE for services to science for her work on the EU General Data Protection Regulation. Beth has a PhD from the Medical Research Council Laboratory of Molecular Biology in Cambridge and a degree in Natural Sciences (Biochemistry) from the University of Cambridge.
Dr. Diego Baptista works between the Policy and Advocacy team and the Diversity and Inclusion team at Wellcome. He is making sure our efforts to Reimagine Research are inclusive in how they are developed and implemented. He has previously held a role at Wellcome in the Open Research team and holds a Ph.D. in Biochemistry and Biophysics from Harvard University.
Dr Ben Bleasdale is a Senior Policy and Advocacy Adviser at Wellcome. His role involves monitoring and influencing the factors which support good science – from Government investment, to research culture. As part of the cross-Wellcome team behind the Reimagine Research initiative, he supports organisations and individuals to work together to improve the working culture of research. He held roles at the Academy of Medical Sciences and the MRC, having previously completed a PhD in structural virology at Imperial College London.
In this Making an Impact Special we discuss the findings of Wellcome's survey of what researchers think about the culture they work in, and how we can learn from eachother's good practice to improve research culture.
Subscribe, Listen, Rate and Review
Podcasts are available to listen to free on Anchor.
You can also listen on your preferred platform: Apple Podcasts, Breaker, Castbox, Google Podcasts, Overcast, Pocket Casts, RadioPublic, Spotify and Stitcher. Just search for 'Liverpool Academy'.
Let us know what you think by tagging in The Academy on twitter.
Further reading
Access the reading list related to this podcast.
Music and Effects
This podcast uses sounds from freesound: https://freesound.org/s/417560/ and music from Purple Planet: https://www.purple-planet.com