The Researcher Development Framework (RDF)
The RDF is a professional development tool that was developed by Vitae. The purpose of the framework is to support researchers in realising and planning their career development. The RDF articulates knowledge, behaviours and attributes of successful researchers at all stages of the research career. It can be used as an aspiration or as a hands on planning tool.
The Liverpool Doctoral College provides support for the development of doctoral students which is closely linked to Vitae and the RDF.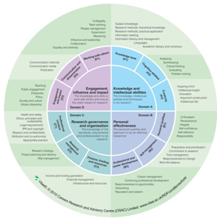 We run bimonthly workshops for introducing researchers to the framework. Please contact us at researcher@liverpool.ac.uk for the next session.