The Researcher Development Framework (RDF)
The RDF is a professional development tool that was developed by Vitae. The purpose of the framework is to support researchers in realising and planning their career development. The RDF articulates knowledge, behaviours and attributes of successful researchers at all stages of the research career. It can be used as an aspiration or as a hands on planning tool.
Information about the RDF can be accessed via the Vitae website: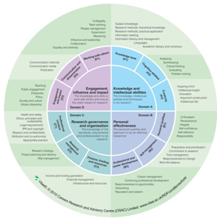 Online Development Resources Mapped to RDF
You can visit the online researcher skills development resources page containing guidance on what is available to colleagues through LinkedIn Learning. Here you will find a catalogue of courses and videos that have been mapped on to the Vitae Researcher Development Framework (RDF) so that you can identify which skills each resource is related to.