What is happening in the garment sector in Myanmar?
by Alex Balch
There has been a massive increase in investment and employment in the garment sector in Myanmar in recent years. The Myanmar Garment Manufacturers Association estimates that employment in the sector will grow from 350,000 workers in 2017 to 1.5 million by 2024.
But plenty of concerns remain about working conditions amidst other major human rights problems facing the country. Since August 2017 the world has watched with horror the flow of refugees from the country – people from the minority Rohynga community who are fleeing what the UN described as a textbook example of ethnic cleansing.
International reaction to the Rohynga crisis has included discussion of the use of trade sanctions by the EU on textiles to put pressure on the government. Meanwhile there remain deep concerns about the extent of the political reforms and whether there has been a meaningful transition from full military rule in Myanmar's 'disciplined democracy'.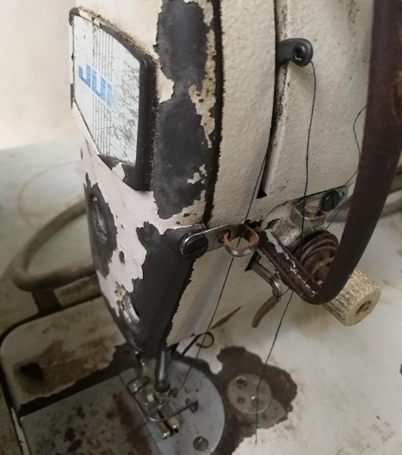 Fieldwork in Myanmar
Our fieldwork in Myanmar was conducted by a team led by Rebecca Napier-Moore (an independent researcher, specializing in migration, gender equality, and labour practices) and Future Light Centre, a civil society organisation, led by ex-political prisoner Ma Thet, that assists workers with labour disputes and provides training and awareness about labour rights.
The team conducted over 40 interviews with garments workers and 10 with stakeholders. The interviews asked about the experiences and challenges of working in the sector.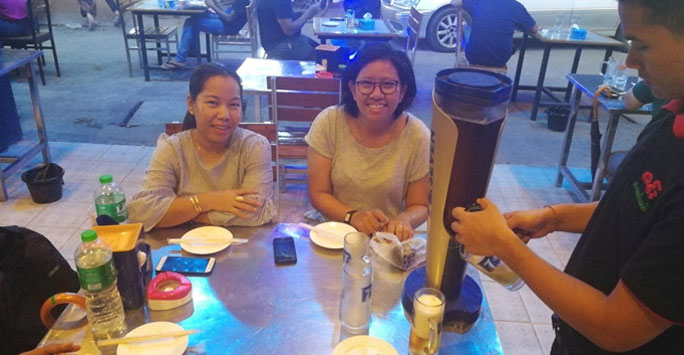 Image: Enjoying a cold drink after the focus group. Left – Ma Thet, Future Light Centre, Right – Haymann Zaw, interpreter.
In September 2018 Professor Alex Balch from the University of Liverpool (Principal Investigator for the Clothes, Chocolate, and Children project) visited to meet the fieldwork team and joined them to carry out some of the interviews with stakeholders and to hold focus groups with workers, assisted by an interpreter.
The timing of the research coincided with significant political developments, not least of which were discussions about a future reform of the labour law. In Myanmar the garment sector has moved to centre stage as simultaneously a potential target for sanctions while also being a major area for economic growth and national credibility in the global economy with its ability to attract foreign investment.
Workers in the sector have experienced a series of changes including rules around pay, hours and rights such as the introduction of freedom of association since 2012, However, there are claims about serious problems of implementation of these rules. A process of reform since 2015 (with 'technical assistance' from the ILO which has published a guide to the law) has led to political conflict in late 2018 over penalties for employers who do not comply with the law.