Featured Teaching: The Philosophy Student Showcase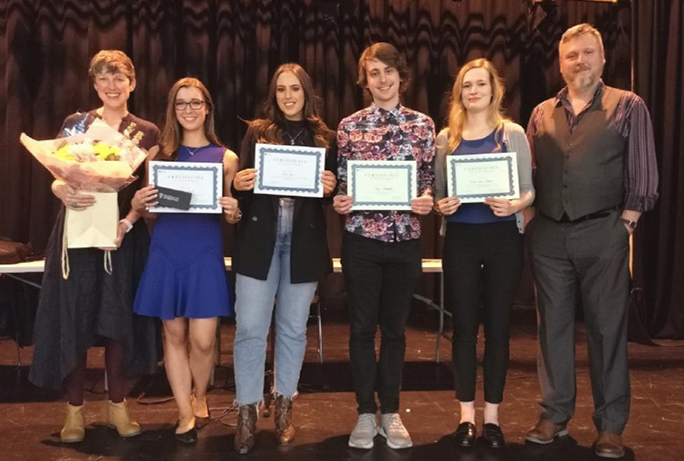 Dr. Rachael Wiseman, who was also recently named as one of this year's Learning, Teaching and Student Experience Award winners, recently introduced the Philosophy Student Showcase for final year undergraduate and MA students. This kind of event had never been held in the department before and proved to be an instant success; it provided an opportunity for students to develop key skills and also fostered a stronger community within the Philosophy department. We asked Rachel about the event and the feedback she received.
Hi Rachael, what can you tell us about the student showcase?
In March the Philosophy Department held its first ever Philosophy Student Showcase. Final year undergraduate and MA students presented their research to an audience of peers, staff, and family and friends, and afterwards there was an awards ceremony and wine reception.
The students who presented played a critical role in the success of the Showcase – all of them did so voluntarily, as the event was not tied to assessment. Their presentations revealed the extraordinary talent in our student body and, as teachers, we were inspired to see our students really enjoying sharing their philosophical understanding. However, the most significant contribution to the day's success was the team of undergraduate students from the Philosophy Society who organised the Showcase. They were given a budget of £500 (from the Employability Fund) and free reign to plan an event that they felt would best showcase the talent of their peers.
I worked closely with the team and helped them liaise with professional services teams. Some of the day's most successful innovations came from the students - such as giving participants the option of doing a poster display, rather than a stage presentation, to increase accessibility; inviting presentations from MA Dissertation students to enable final year students to learn about postgraduate work; and inviting Panpsycast as an example of alumni careers in philosophy. As such, running this event has given our department new insight into what matters to our students, and how we might do better.
In addition to the student presentations, The Panpsycast recorded a live episode of their podcast series, featuring questions from the audience. The podcast has 75,000 subscribers, mostly A' Level students and teachers, and is the work of two alumni of Liverpool's Philosophy Department.
And what was the response from the students?
The aim of the conference was to celebrate our dissertation students. Final-year or MA dissertations constitute the most significant case of research-based learning in our curriculum. To many students, the production of a dissertation is the most challenging and yet most rewarding part of their degree. The process can be isolating and stressful, and the Showcase was originally conceived as an opportunity for the department to celebrate their work, provide formative feedback, and to strengthen the research community of staff and students. The feedback has been very positive, with most commenting on how this encouraged them to think of their dissertations from other perspectives and helped them to develop their presentation skills.
The event was a great success and we are now viewing this Showcase as an essential aspect of the department's identity and cohesion, and as an opportunity to bring together our undergraduates, postgraduates and staff. We hope that the impact will be cumulative, as students who were audience members as first or second years progress to present as final-year or MA students. We are excited to see what new innovations next year's Philosophy Society team propose!