Welcome to the Centre for Proteome Research at
The University of Liverpool
. We are a well equipped lab, led by two academics, addressing a range of challenges in protein mass spectrometry and proteomics as applied to biology and biomedical sciences. The CPR also acts in part as a Shared Research Facility.



Happy New Year

It seems odd to be saying that, but there is a chance that by the end of 2021, CPR will have resumed some sort of normality. In the interim, we'll do our best to support our external users, as well as the research team here, but our normal level of support will inevitably be compromised.
Personalia and other news (to see all news items, jump [
here]
)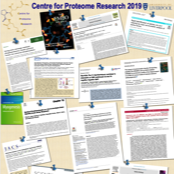 Annual posters

Our annual highlights posters are now here: [
Papers in 2019
] and [
Events in 2019
], created as usual by Victoria.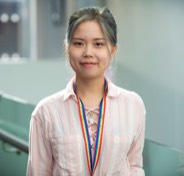 New CPR member: Welcome to Elena Sou

Elena joins CPR in a joint project working with Claire and Sr Ursula McClurg with Dr Wee-Wei Tee in Singapore. Welcome Elena! Find out more
here
.
Rethinking posters in science

We know this is going to be contentious, but have posters become too overwhelming? We tried a different interpretation at BMSS last year.
[
LINK
]

Recent publications (to see all our papers jump [
here
])

---

Zap the crap! - now fry the fly!

We've shown how REIMS can be used to analyse animal faeces and gain a great deal of information. Iris has now shown that REIMS can also be used very successful for insect identification and phenotyping.[
paper here
]

Sperm competition

Two new papers on our work with
MBE
- one on
seminal vesicle fluid plasticity
and the other
using stable isotopes to track relative ejaculate investment in voles
.

CPR Datasets in PRIDE.

We are working hard to support open access and open data initiatives, and deposit raw data in [
PRIDE
]. You can find our submitted datasets elsewhere on the ProteomeExchange site [
HERE
]. If you want to see why making data available is important, look [
here
] and [
here
], in that order.

New funding and research opportunities
There may be postdoc and PhD student opportunities with Claire and Ed. Please make direct contact with them for general enquiries.

Annual CPR 'Year in review" posters

At the end of each year we produce a poster that captures our research outputs for the year, and also collates all of our main events, outreach, STEM activities etc. If you'd like to see these posters, then look for [
EVENTS 2018
] and [
PUBS 201
8] (PDF files). You can find our papers here (main menu,
Papers
) and pick up news information here.

Posters of our work

We've prepared a full sized poster that covers the work we published: [
2014
] [
2015
] [
2016
] [
2017
][
2018
][
2019
]. We also publish an annual summary of great events. [
EVENTS 2015
] [
EVENTS 2016
] [
EVENTS 2017
][
EVENTS 2018
][
EVENTS 2019
]. The 2020 posters will appear here at the end of the year.
Web resources for proteomics
Pastel Biosciences have compiled an impressive set of web resources for proteomics. [HERE]

QconCAT on YouTube

View a short YouTube video that explains how to use QconCATs for isoform quantification [
Video
]

PLus, if you want to know what it is like working in CPR, see [
this interview with Rosie
].