Rodewald Award for Young Composers 2017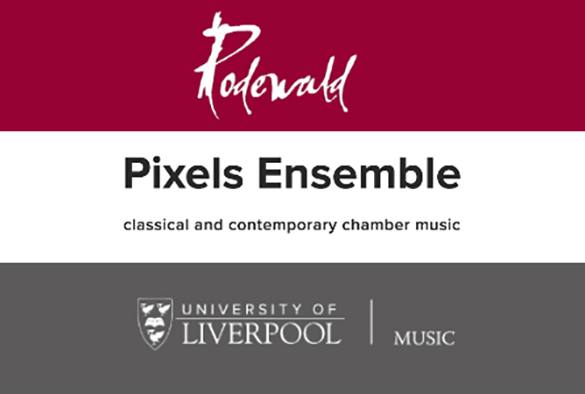 ‌In association with Pixels Ensemble and the Department of Music, University of Liverpool
Submissions are invited for compositions to be considered for the Rodewald Award for Young Composers. The Rodewald Concert Society promotes the highest standards in chamber music on Merseyside while encouraging and developing the interests of everyone in the region in the performance and playing of such music rcs.merseyworld.com.
The Award is open to all students studying A-level music at schools in Liverpool and Merseyside. Six finalists will be invited to a workshop of their compositions by professional musicians from Pixels Ensemble. The winner of the Award will receive a prize of £150 and a public performance of their piece by Pixels Ensemble in the University of Liverpool Lunchtime Concert Series.
The composition must fit the following criteria:
1. The piece must be more than 4 minutes and less than 8 minutes in duration.
2. The piece must take the form of a trio, quartet, quintet or sextet made up from any three or more of the following instruments: violin, viola, cello, clarinet (in B flat or A), French horn, piano. No additional instruments or voices may be added, and no electronic elements may be used.
3. It must be possible to perform the piece from the submitted score and parts without a conductor.
---
Timeline
Monday 28th November 2016
Deadline for expressions of interest from schools. Please complete the form below and return to helen.thomas@liverpool.ac.uk
Monday 16th January 2017
Deadline for submissions of hard copies or computer files of all submitted scores and parts. Six pieces from those submitted will be selected for inclusion in a workshop at the University of Liverpool. The selections will be made by a panel comprising Ian Buckle (pianist and director of Pixels Ensemble), Ben Hackbarth (Head of Composition at the University of Liverpool) and Helen Thomas (Public Engagement and Events Officer, University of Liverpool).
Monday 30th January 2017
Deadline for notification to all participants of the finalists.
Sunday 26th February 2017
A workshop in the University of Liverpool, in which the 6 selected pieces will be discussed, rehearsed, performed and recorded by Pixels Ensemble - the same players who will appear in the concert on 22nd March 2017. This workshop presents an invaluable opportunity for students to interact with professional players, to hear high quality live renditions of their work, and to make any changes in advance of the A-Level submission date.
Wednesday 22nd March 2017
A performance of one piece selected from the six will be given in a public concert by Pixels Ensemble in the University of Liverpool Lunchtime Concert Series. The composer of this piece will be presented with the Rodewald Award.
---
Form
Please complete the form below by Monday 28 November 2016 and return to Dr Helen Thomas:
email: helen.thomas@liverpool.ac.uk
post: Department of Music, 80-82 Bedford Street South, Liverpool, L69 7WW
Expression of interest in Rodewald Award for Young Composers