Announcing the recipient of the first Sarah Barrow Bursary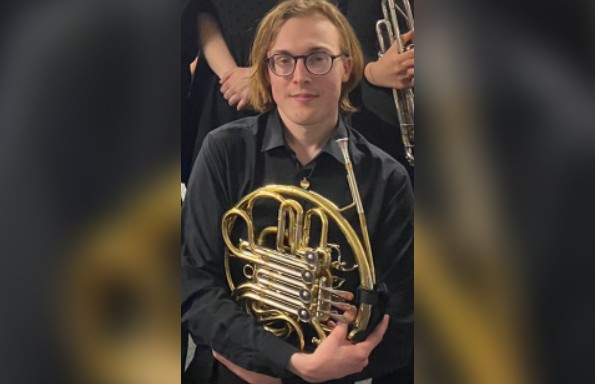 Ewan Hudson has been selected as the first recipient of the Sarah Barrow Bursary in Music.
Launched in 2022 thanks to an endowment, the Sarah Barrow Bursary offers financial support to UK students progressing to the MMus Performance, for whom the cost of continuing onto postgraduate study would otherwise be prohibitive. The award is worth £6,000 and one bursary is available per year.
Ewan recently graduated from the BA Music at the University of Liverpool and will commence his MMus studies in September 2022.
"I'm thrilled to be the first winner of the Sarah Barrow bursary", said Ewan. "This is a very exciting step towards my career aspirations, and I could not be happier.
"Next year can't come soon enough, and I look forward to making more progress at this fantastic university."
Dr Lee Tsang, Director of the MMus Performance, commented: "the panel was particularly impressed by the trajectory of Ewan's progress and the conviction, commitment and confidence he has demonstrated in performance.
"Ewan first embarked on his undergraduate studies at University of Liverpool as a trumpet player, but he explored the French horn during his first year and this instrument quickly established itself as his main study specialism.
"His rapid and excellent progress during his studies is perhaps best demonstrated by the success of his final year recital, which achieved the highest first class grade for classical performance of the 2022 graduating cohort. The recital featured him performing Krol's Laudatio, Vinter's Hunter's Moon and Strauss Horn Concerto No. 1.
"In addition to performance, Ewan has shown evidence of sufficiently strong supporting academic skills, with his 'Beethoven' module achieving first class grades and his presentation in analytical modules such as 'Form, Rhythm and Time' also being rewarded with a first class grade".
Ewan is keen to pursue a career as an orchestral player. He has made considerable steps to gain suitable experience and he has performed in major symphonies by Dvorak, Tchaikovsky, Beethoven and major orchestral works by the likes of Stravinsky and Holst.
Aside from his very active work with student ensembles and orchestras while at University, Ewan has performed in the Royal Liverpool Philharmonic Youth Orchestra and he has participated in international tour courses with Peter Fender's South London Symphony. He also has experience as a section leader and as an extras fixer for orchestral events.
Applications for the next round of the Sarah Barrow Bursary will be accepted from early October, when applications for 2023/24 postgraduate taught programmes will open. A link to further information on how to apply will be posted on the course page ahead of 2023/24 applications opening.