Prof Catherine Tackley recognised for Outstanding Contribution to Public Engagement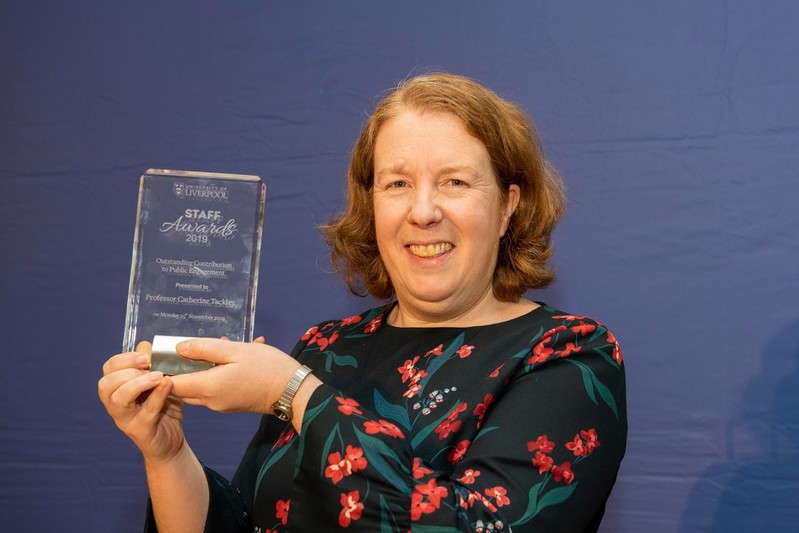 Congratulations to Professor Catherine Tackley, Head of Music, who scooped the award for Outstanding Contribution to Public Engagement at this year's Staff Awards.
Professor Tackley has demonstrated herself to be an exceptional ambassador for her discipline and the University. She curated 'Rhythm and Reaction: The Age of Jazz in Britain' exhibition at Two Temple Place in association with the Arts Society, welcoming 45,000 visitors and gaining coverage in 60 publications, including 4-star reviews in the Guardian, Time Out and the Telegraph. As Professor in Residence for the London Jazz Festival, she organised and contributed to a study day on 'The Impact of Jazz'. She has led collaborations with jazz musicians for events on '100 Years of Jazz in Britain' at the International Slavery Museum and Hoxton Hall, London, and provided regular 'on this day' updates on Facebook and Twitter. She has been adjudicator for the Will Michael Jazz Education Awards, conducted interviews on 'Rhythm and Reaction' for various national publications, and contributed to BBC Radio Four's 'Jazzed Up: How Jazz Changed Britain' and 'Black Music in Europe: A Hidden History'.
In recognition of her standing, Professor Tackley has been appointed to the Liverpool City Region Music Board, and is Chair of the Education and Talent Development Subgroup, where she is working on a co-ordinated approach to music education across the region. She has also been appointed to the Board of the UK's National Jazz Archive.