Rhythm & Reaction: the Age of Jazz in Britain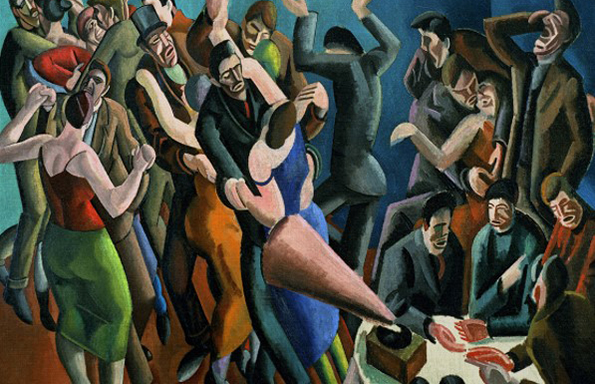 Brand new exhibition curated by Head of Music Professor Catherine Tackley opens to rave reviews in London.
Marking 100 years of jazz in the UK, Rhythm & Reaction: The Age of Jazz in Britain explores the impact that jazz had on Britons from 1918.
Produced in partnership with The Arts Society, also marking its 50th anniversary, the major showcase brings together painting, prints, cartoons, textiles and ceramics, moving film, instruments and the all-important jazz sound to explicitly examine the influence of jazz on British art, design and wider society.
Watch a video on Rhythm & Reaction by London Live.
Curator, Professor Tackley said: "This exhibition tells the story of the ever-popular jazz age in new ways, focussing on British depictions of jazz to understand what the music meant to artists, assessing the resultant image of jazz in the public sphere as well as considering how jazz was encountered in everyday, domestic environments.
"Above all, the exhibition links the music with the aesthetics of art produced in response to it, uniquely foregrounding the impact of jazz music on 'jazz age' art."
The exhibition has opened to rave reviews from The Telegraph, London Jazz News, Jazz Journal and more.
Rhythm & Reaction: The Age of Jazz in Britain
27th January 2018 – 22nd April 2018
Free entry