Gerald Barry
Gerald Barry
Monday 11th May, 11am // An exciting opportunity to get a close up look of the creative process of world-renowned orchestral and operatic composer Gerald Barry from his home as he works on his new opera based on Oscar Wilde's Salome for Los Angeles .
Roisin Walters
Róisín Walters
Monday 11th May, 1pm // Accomplished, renowned and award-winning violinist Roisin Walters gives one of her exciting performances for Culture Unconfined.
Ian Prowse
Ian Prowse
Tuesday 12th May, 7pm // From his influential bands Pele and Amsterdam to his more recent hugely popular solo material, Ian has been a giant on the local and national music scene for decades. Don't miss this performance from the great man himself.
Jamie Kenny
Wednesday 13th May, 1pm // Jamie is Associate Principal Double Bass with the Royal Liverpool Philharmonic. Join him as he plays a selection of music as part of our Lunchtime Concerts series.
Green Tangerines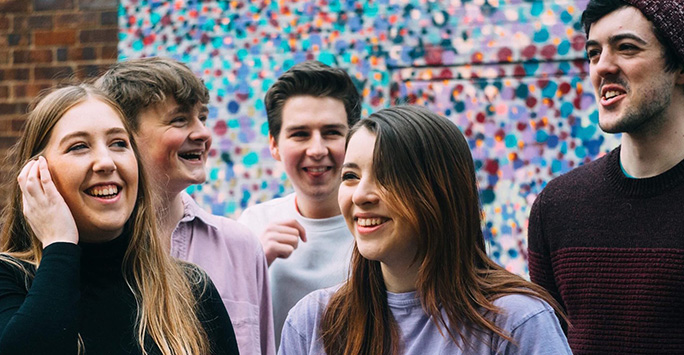 Green Tangerines
Thursday 14th May, 7pm // Originally from Ireland and now based in Liverpool, Green Tangerines combine the rawness of 70's Jazz Fusion with the Nu Jazz scene of today. Complex compositions hide beneath stellar brass riffs and hummable vocal melodies.
Loris and the Lion
Loris and the Lion
Friday 15th May, 1pm // Loris and the Lion are a duo from Liverpool who weave gentle tales of joy and loss; a patchwork of sonic delights built by (wo)man and machine to soothe the soul and feed the heart. Wonderful, inventive and not to be missed!
Nuala Honan
Nuala Honan
Friday 15th May, 7pm // Join award-winning Australian vocalist Nuala Honan as she discusses her musical journey, her latest compositions and performs some of her latest powerful, post-punk songs.