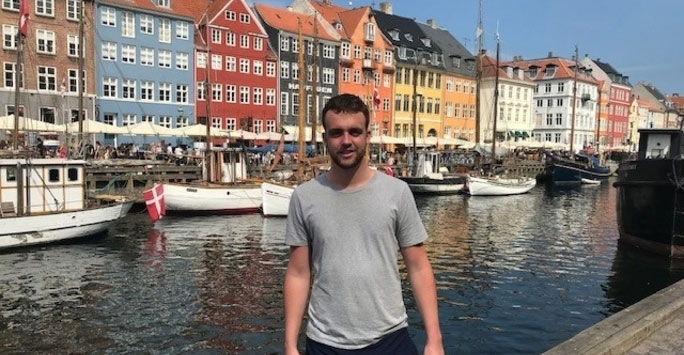 Daniel White
BA Business Management with a Year in Industry
Study abroad is a chance to learn so much about yourself and realise that people have different views and beliefs to your own.
Top three tips for Studying Abroad:
Firstly, do not worry if you don't know much about the location you are offered. I did not know much about Copenhagen but now would like to go back and live/work there in the future as I enjoyed it that much.
Secondly, if you are worried that you won't make friends or won't fit in, you are completely wrong. I will admit I was nervous as I arrived alone at Copenhagen airport to meet my peers, but within a few hours I was having a great time and was planning activities with my new friends. Furthermore, these friends I am still in contact with now and plan to meet up at some point in the future.
Finally, when applying for the study abroad programmes, be honest on your application and convey your passion for the scheme. The University want to know why they should send you instead of just another student, why are you going to be a good ambassador for the university and for the UK. Tell them what you will get out of it, what you can give back and why you want to go.
---
Why did you choose to study abroad?
Firstly, my summer abroad was the best 6 weeks socially I have ever had. I have made friends for life from all over the globe which is brilliant for travelling and experiencing new cultures in the future and is also a network of future business contacts. Furthermore, I have come back to my second year with a much better understanding and subject knowledge from learning at a world class business school.
I have gained an improved independence and maturity from living on my own in a different country for 6 weeks and a better understanding of how to settle into new cultural environments.
---
What skills have you developed by Studying Abroad?
Firstly, I believe I have a much greater understanding of International Business and Business Studies as a whole. Since returning for a second year during my lectures I am ahead of the game because some topics, such as business strategy, I have already covered in great detail in Copenhagen. I fell much better-rounded as a Management School student thanks to study abroad, meaning my grades are being boosted due to a much greater understanding of business from a world-leading business school. I have a greater ability to look at business problems from a different perspective due to the varied and challenging teaching and assessment styles I took a while on study abroad.
Secondly, for my social skills, I believe I have gained a much better ability to make friends and work with people who are from all corners of the world. Spending 6 weeks abroad with a group of friends who were from all over has meant I have a much greater cultural understanding and can see things from other people's perspectives.
---
What were your highlights of Studying Abroad?
As we would finish most lectures at lunchtime it meant we would usually have the afternoons off to study and relax. When I was not studying I was making the most of the amazing city I was living in. In Copenhagen I found it was often free or very cheap to go and have fun. For example, the city has cleaned up its rivers so much that they are clean enough to swim in. On a hot sunny day me and my friends would get some food and drink to take with us to relax by the canal with the locals and other international students.
When the weather was not as hot me and my friends would play football or basketball in the sports courts in our accommodation. This was great fun and a good way to meet new people, I found sport was the best way to make friends and build relationships with other students
---
What challenges did you face when Studying Abroad and how did you solve them?
I would say the biggest challenge I found while studying abroad was arriving and trying to fit in and make friends with everyone. You have to remember that everyone there is in the same boat and within a day or two it is a lot easier. As I said above, my interest in sport was a great way to meet new people but the same can apply to everyone's interests. The best way to meet new people is to express your interest in things, it's almost certain someone will feel the same and want to do the same thing.
---
Why should other students Study Abroad?
As mentioned above, I believe there are two key reasons why students should take up study abroad.
Firstly, the academic and employment benefits from studying abroad are huge, I feel so much more confident in my business studies since taking on the summer courses in Copenhagen. Secondly, when applying for placements this year, and in the future when applying for graduate schemes, I have found it is very easy to write about study abroad and is good to use in interviews. It demonstrates so many different academic and personal skills and requirements such as independence, team working, cultural awareness and maturity.
Furthermore, socially I believe that study abroad is a chance to learn so much about yourself and realise that people have different views and beliefs to your own. This is due to spending time in an environment where you are faced with situations which challenge you and cause you to take a step back and look at the bigger picture. Finally this is great chance to meet new people from all over the planet and have a chance to go and visit them in the future, and they could be future business partners for you.