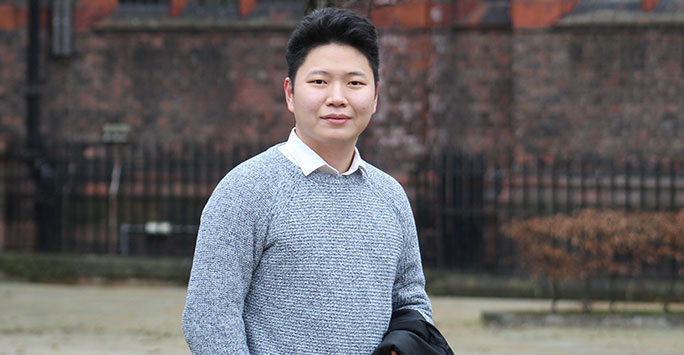 Win Phyo Ko
Win Phyo Ko is originally from Myanmar and came to Liverpool to broaden his knowledge and advance in his career.
What were you doing before you begin your master's study?
I was working as a Senior Product Manager for a commercial bank in Myanmar for more than three years. Prior to that, I worked on branding and business development for a local start-up hotel chain after obtaining my First Class degree from the University of Huddersfield in 2017.
Why did you choose to study for a master's at the Management School?
Being exposed to and working with international firms within four years of finishing my undergraduate studies instilled in me a resolute desire to deepen my understanding of how they strategise, market globally, and localise operations efficiently.
Having been introduced to International Business and Sustainability studies in my undergraduate years, I have been advancing my career with its practical implications in the workplace. I wish to broaden my theoretical and practical expertise, approaching from a different perceptive as an experienced professional.
With such plans to further my studies and due to the sudden turn of events in Myanmar in early 2021, having to choose the University of Liverpool was a fairly easy decision. Its accreditation, being ranked highly among European business schools in Financial Times, its faculties, employment support and the affordability of the city all ticked my requirements.
Did you receive a scholarship or study award?
I have been awarded the ULMS Southeast Asia Excellence Scholarship and Vice-Chancellor's International Attainment Scholarship for which I feel highly honoured and grateful.
Which aspects of the master's programme course do you think will be most beneficial to your career development?
Having practical aspects of the programme and experienced lecturers whose doors are always open for questions enriched my student experience. Having been exposed to employers, resources from the careers team are also invaluable for career development.
Have you received help and advice from the Management School's MSc Careers team?
Being a part of the ULMS community, I am most grateful for its Careers team. The resources are world-class and well thought through. From job search (CV, personal statement, mock interviews preparations) to visa-related resources for international students are all made available. Different tools and portals such as Career Farm, CV360, LinkedIn Learning, Student Circus are all made available to equip MSc students to be career-ready. There are also ongoing career-related events, competitions, and networking opportunities throughout the academic year to enrich our experience.
Did you or will you be undertaking a placement, work-based project, internship or consultancy as part of your programme?
I will be participating in the "we can work it out" consultancy challenge whereby MSc students will be teamed up to help solve real-world business challenges. I will also be taking part in the "Design your future" programme, where I will be exposed to tools and knowledge enabling me to develop a business idea into a viable enterprise, ready for the pitch.
What have you enjoyed most about living in Liverpool?
Everything about Liverpool is enjoyable. Music, buildings, football, history, nightlife, art, you name it. In Liverpool, there is something for everyone and the city is both safe and affordable. I think it's the combination of all of those that made it Liverpool unique and ranked 2nd in the UK's friendliest cities. Five years ago, during my studies in Huddersfield, I visited Liverpool and it mesmerised me. And it still does to this day.