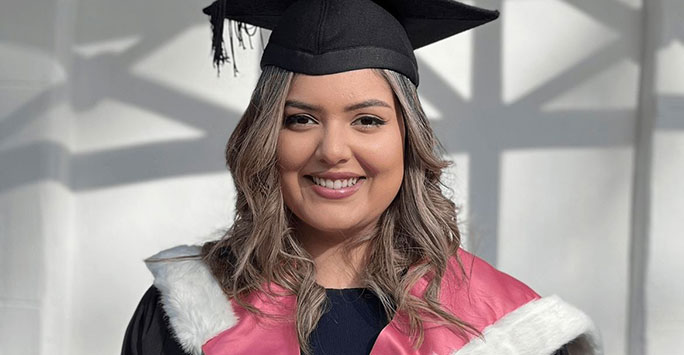 Reena Nizzar
What is your nationality and where are you from?
I am a British citizen, and I am from Coventry.
What were you doing before you began master's study?
After my BA English Literature degree, I took a year out with the intention to teach English in Thailand for the year. However, due to the second lockdown, I could not fly out, so I stayed in the UK and got a job at Warwick Business School as an Information Assistant. This opportunity gave me a great insight into job progression after completing a business degree and enabled me to have an insight into the marketing world!
Why did you choose to study a master's at the Management School?
The main reason why I chose to study my master's at the triple accredited Management School was because I had previously attended The University of Liverpool and I thoroughly enjoyed my time here! As well as this, Liverpool's Management School is one of the few universities in the UK which offers the Bloomberg Financial Concepts course, a course which provides a great introduction to the financial markets. The Management School is diverse, hosting people from a variety of backgrounds, whilst also providing fantastic opportunities to develop on a personal level as well as academic.
Did you receive a scholarship/study award?
I was fortunate to be awarded with the Postgraduate Progression Award as well as a Management School Award.
Which aspects of the master's programme do you think will be most beneficial to your career development?
The great thing about MSc Marketing is the fact that it provides scope for wider reading and engagement with topics that you are more passionate about. The most beneficial part of the programme is the extra-curricular opportunities. I am currently a course representative, and this has given me some experience of how a professional meeting is run. As well, the digital accelerator skills, such as the introduction to Google Analytics, and the general skills sessions have greatly improved my technical ability. I am currently completing the MSc ExECS award which allows me to engage with the University on a wider level, increase my chances of employability and develop my skills.
Have you received help and advice from the Management School's MSc Careers team?
Although I have not yet actively sought out advice for a one-on-one appointment with the careers team, I have made good use of the resources on Handshake and the ULMS skills sessions. I have also used the CV360 checker, which has been a great resource for preparing my CV before applying to jobs. There is constant support from the MSc Careers team with an introduction to job platforms such as Get Highered, Student Circus and Handshake. During my job application process, I will be using the careers team to help with mock interviews, practicing psychometric tests and going through my cover letters.

Are you undertaking a placement, work-based project, internship, or consultancy as part of your programme?
I am currently participating in the We Can Work It Out consultancy challenge. I have been placed into a group with fellow management students and we have been challenged to reduce the carbon footprint emissions of a robotics company in Liverpool. I am looking forward to getting stuck into the challenge, even though it is completely out of my comfort zone!
What have you enjoyed most about living in Liverpool?
Liverpool is such a great city, and it is my fourth year living here! The diversity and culture are evident everywhere you go; from The Beatles in Penny Lane (I lived opposite here in my first year of study) to the arch gifted by Shanghai, which stands proudly in Chinatown. Every day is different in Liverpool and there are always so many opportunities to discover the Docks, take part in activities hosted by the guild, such as pottery painting, and explore the amazing food scene. The thing I enjoy most about Liverpool is that I never get bored here!