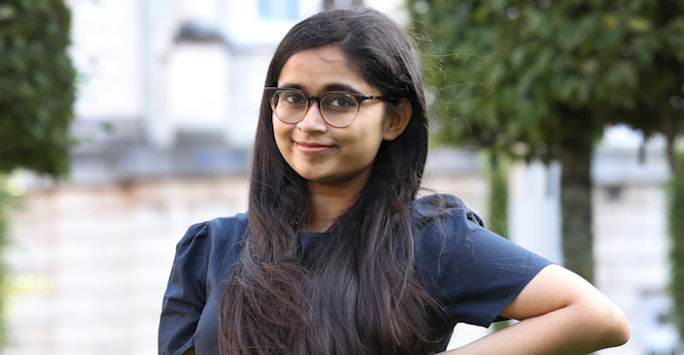 Pramita Pandit
MSc Business Analytics and Big Data
Why did you choose postgraduate study at the University of Liverpool?
As an international student, it is undoubtedly a significant and important turn of life to take a leap of faith in studying abroad. Getting into an ideal University which will shape my future is the biggest hurdle in that journey.
One of the most prominent reasons for choosing the University of Liverpool was the desire to study in an original 'Red Brick' University which is also a part of the prestigious Russell Group. The other reason is the course structure and modules to be aligned with my interests and career aspirations.
Moreover, I was awarded a University of Liverpool Management School scholarship which was another motivating factor for my decision. Needless to say, I am delighted to be offered a place here and content with my selection.
What's the best thing about studying in the Management School?
It is my privilege to be a University of Liverpool Management School postgraduate student as the School is one of an elite group of institutions worldwide to be triple-accredited, which represents the highest achievement for an educational institution.
The School is also right next to the Sydney Jones Library which helps me to utilise my time in between classes and its calm atmosphere soothes my mind if I get overwhelmed with studies.
How do the facilities in the University help you with your studies?
The campus libraries played an essential role in my postgraduate studies. Both the Sydney Jones and Harold Cohen libraries handle more than 2.5 million resources, and we also have access to 700,000 e-books and 68,000 e-journals. Both libraries are open 24/7 throughout the academic year however I could easily access the library electronically at home and these electronic services proved to be vital during the pandemic.
The KnowHow seminars arranged by the libraries also helped me gather many aspects related to my field. Moreover, online lectures were recorded, and study materials were available in Canvas. The Language Lounge also presented opportunities to learn many languages (Spanish, French, German etc.) alongside my programme
Aside from the libraries and Canvas, The Liverpool Guild of Students is also a great place for group studies with refreshments.
What kind of support do you get from tutors?
The professors are very supportive and approachable, so we have the flexibility to reach out to them with our doubts and queries. During the online lectures, they always encouraged us to speak out and be vocal about our difficulties. The pandemic introduced us to the new structure of studies, but the tutors did not make us feel distant and maintained a cordial relationship throughout the course.
What do you enjoy most about the whole experience?
The entire University experience has been pretty interesting for me as the pandemic definitely altered all the dynamics with its stay-at-home restrictions.
The programme was delivered in a blend of online and in-person lectures, so I got the taste of both! The University provided me with an opportunity to represent my country as an International Student Ambassador and I have been part of many fascinating events such as the University's Liverpool Literary Festival where the bibliophile in me had the opportunity to meet some of the renowned authors of the nation. Welcoming diversity is one of the major attributes of this University as well as the city and it won my heart.
How do you believe undertaking postgraduate study will help your career prospects?
I started my career path as a software engineer and envisaged myself within the same sphere of decision-makers who determine the wave of businesses across the world. A postgraduate programme helped me to acquire appropriate technical knowledge along with the proper business understanding to gain an edge. I will be starting my career as a Business Analyst in the care sector upon the completion of my degree and undoubtedly, this course aided me to launch my career into a new phase.
What advice would you give to anybody considering postgraduate study?
Go for it if you firmly believe that you are following your interests. Staying in the path of higher education makes a person more knowledgeable and confident about the field in which they are willing to pursue their career. Aside from thinking about your career, it will also be pleasant to prolong your student life and enjoy the little things people are going to miss in subsequent phases of life.