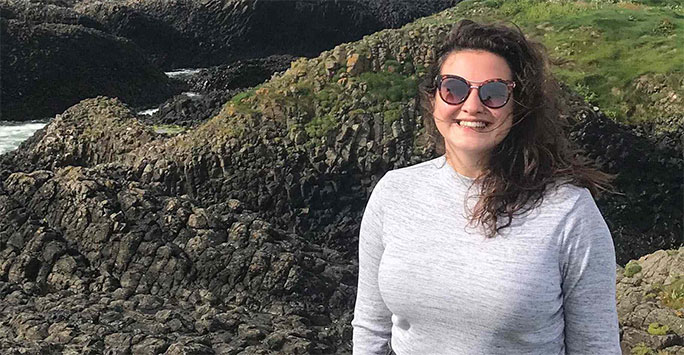 Ellie Haines
What is your nationality and where are you from?
I'm British and I'm from Liverpool.
What were you doing before you began master's study?
After completing my undergraduate degree in German and Economics at Cardiff University in 2019, I was working in a local bar. I had been umming and ahhing about whether I wanted to do a master's in economics. The pandemic and lockdown made the decision for me.
Why did you choose to study a master's programme at the Management School?
Aside from Liverpool being my home, I'd always heard 5-star reviews from my friends who had studied at the University of Liverpool. When I was researching master's programmes, I'd always made an effort to read School's mission statements. The inclusive, socially and environmentally responsible nature of Liverpool's Management School really stood out to me.
Which aspects of the master's programme do you think was the most beneficial to your career development?
The self-driven study element of the master's programme is probably most beneficial to my career development. It's important not to rely too much on lecturers (or, in the future, managers) to be guided on what to do, why to do it and how to do it. In my current role, my line manager has commented on my independence, how I require little guidance on projects and how I come up with things to do. This is something I learnt during my masters and is very important for career development.
What did you enjoy most about your time on the programme?
Believe it or not, I really enjoyed writing my dissertation. After the initial stress of finding a topic and seeing if the data works, it was nice to research something I was interested in. I researched the impact of immigration on far-right voting in Germany. It was nice to make use of my German skills, while seemingly doing a master's in something completely unrelated.
What did you enjoy most about living in Liverpool?
I think there is a unique buzz about Liverpool that you can't find elsewhere. I know I may be biased, but the people are so friendly. I've always felt so comfortable in Liverpool. You can sit in a pub alone and go home with life-long friends.
What are you doing now?
I'm a civil servant working in the department of international trade. I promote capability amongst professionals working in trade policy, negotiations, exports, and investment. I get a very broad insight into the workings of trade policy and strategy. It's interesting getting to know the details of the work that goes into negotiating and implementing free trade agreements, especially since studying the economic impact of trade throughout my academic career.
What advice would you give to anyone interested in following in your footsteps?
I think my main piece of advice would be to enjoy it. When you're stuck on a problem, it's difficult to break through the 'mental block' and you end up questioning why you choose to pursue a master's in the first place. Go for a walk, text a course mate, or read a book. Take a break and come back to it. If that fails, simply go back to basics, use your intuition, trust your gut and hope for the best – you're usually right.