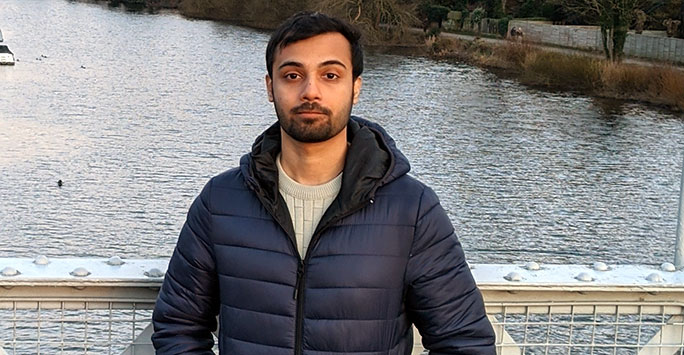 Daniel Mahbub
What is your nationality and where are you from?
I am from Dhaka, the capital of Bangladesh.
What were you doing before you began master's study?
Before I came to the UK to pursue my master's study, I had been working full-time back in my home country in Bangladesh. The last role I held was in one of the largest humanitarian organizations of the world, the International Committee of the Red Cross (ICRC) in their Dhaka delegation, as an Administrative and Information Management Assistant.
Why did you choose to study a master's at the Management School?
Having studied business administration in my undergrad and having held administrative roles in my previous jobs, I considered pursuing a master's at the Management School to be of most value-adding to me. I specifically chose Financial Technology (FinTech) to cater to my growing interests in technological innovations that are likely to disrupt the way organisations operate in future.
Did you receive a scholarship/study award?
I received a ULMS Future Leader's Master's Scholarship to pursue the Financial Technology programme at the University.
Which aspects of the master's programme do you think will be most beneficial to your career development?
The first thing that comes to my mind in terms of the benefits of pursuing the programme is the multidimensional aspects associated with it. The programme has been designed in a way that addresses the contemporary issues and requirements of the present world that is expected to hone both my commercial and technological awareness, which I think would go a long way in terms of career development.
Have you received help and advice from the Management School's MSc Careers team?
The Management School's MSc Careers team has been great in terms of the range of support they provide. Personally, I would say that the team has been proactive with their help and advice, given that they had even delivered an introductory promotional session during one of my classes entailing the services they provide, which brought me to know about many of their services in the first place.
What have you enjoyed most about living in Liverpool?
One of the most amazing factors of living in Liverpool is the friendliness of the people here. Being an international student, the initial days were supposed to be a bit difficult as homesickness started kicking in, however, the interactions that I had with the people here never made me feel like being in an unknown land which certainly put me at ease. Additionally, the experience of visiting world-renowned landscapes here and being able to explore a variety of multicultural restaurants spread all around the city was a bliss for me.