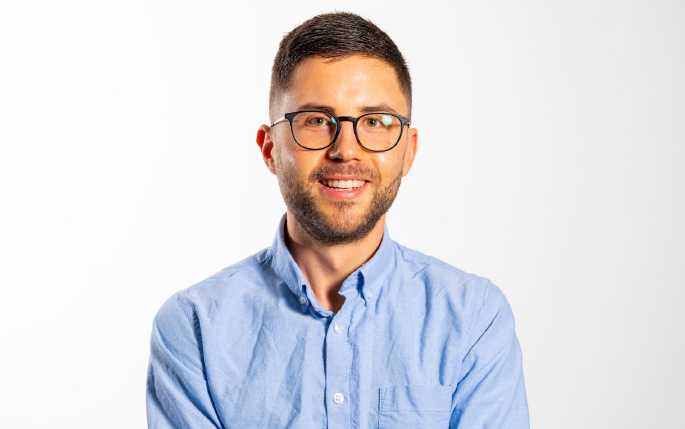 Colm held the position of International Team Operations Executive with his National Association, the Football Association of Ireland (FAI), where Colm oversaw the arrangements for three of the underage national teams.
Colm had experience working on the UEFA EURO 2020 legacy in Dublin followed before Covid-19 impacted the world of sport as we knew it.
Most recently Colm worked with a start-up football management company in Dubai, further broadening his operational experience.
---
Why did you decide to study for an MBA?
Following my Undergraduate Degree, I always had the desire to gain some practical experience before returning to complete a master's.
With the practical work experience and stage of my career, the MBA was a logical move to grow my knowledge and learn from other experienced professionals.
Liverpool being part of the Russell Group and also offering the Football Industries MBA was an easy choice.
---
What do you feel has been the most rewarding element of the course so far?
Academically the quality of lecturers and subject matter has been exceptional. Many of the modules are full of content that offers an opportunity to really explore areas of interest beyond what is required.
The lecturers are all leaders in their respective fields and I have been impressed by the quality and delivery.
The second aspect is guest speakers and upcoming field trips. In the first month, we had Everton's Commercial and Marketing Director Richard Kenyon, Brighton and Hove Albion CEO Paul Barber as well as alumni and careers specialists.
These additional sessions have provided us with insights into the inner workings of organisations and some speakers have presented their current challenges and asked for our impressions.
We will have some field trips too which will also provide this hands-on exposure to the industry.
---
What do you do when not studying?
I love to run, and Liverpool has some fantastic parks and routes. Moving to the city means I have spent a lot of my downtime exploring cafes, and bars and catching some football games.
A few of us have been to Tranmere, Liverpool, Everton, Manchester United, and Manchester City games already. For a football fan, the area is as good as it gets.
---
What advice would you give to someone thinking of studying for an MBA?
Naturally, I would encourage anyone considering an MBA to take the plunge. It is a big investment but the skills we have been learning will prove invaluable in learning to think more strategically and critically.
As someone who has ambitions to become more senior in their organisation or run their own company, we are learning the workings of the key business operational departments which will make us all better decision-makers in the future.
Networking is also a key part of the programme, and I would encourage those interested to reach out to either lecturers, current students or alumni. I like many would be happy to discuss my experience with prospective students.
---
Why did you choose the Management School?
The Football Industries MBA is the only football-specific MBA programme in the world. The course has been running for almost 25 years, it was just a case of seeing previous alumni, and the current lecturers and it was an easy decision for me.
Listening to 'The Price of Football' podcast with finance expert and lecturer Kieran Maguire while also following many of the lecturers including Professor Ian McHale and Professor Dan Parnell on social channels, the quality is clear to see.
All those involved in the delivery of the programme are established and respected within the football industry.
---
What have you learned from guest speakers so far?
A range of speakers has provided some great insights into their roles and challenges. The biggest striking feature is how honest they have been in sharing the challenges they have faced.
From a football perspective hearing from the likes of Paul Barber, CEO at Brighton, was an incredible opportunity. As future leaders, gaining an opportunity to engage with such high-profile experienced professionals has been a real treat.
---
What skills and knowledge do you feel you have developed?
From the first week, we have been tasked with thinking critically and strategically. The assignments have all given me an opportunity to really analyse the task and use my work experience to relate to it and work through it.
The Careers Catalyst programme each week has also helped with some personal skills such as developing resilience and leadership. The CV workshop was also an eye-opener in terms of what is expected and some best practice skills to implement.
---
What aspects of the programme have you enjoyed most?
Meeting fellow football industry professionals and getting to know them. Both from a learning and networking/friendship point of view, many of us have similar ambitions but vastly different journeys.
Inside the classroom, it has been content in the lecturers. The level of learning is limitless.
---
What impact has receiving a scholarship had on you?
I was fortunate to receive a part-scholarship which was a huge benefit to my studies.
Stepping out from the industry for a year is a big financial undertaking and access to a scholarship certainly allows me to focus on my studies without the reliance on employment.
This will help maximise my learning for the year.
---
What are you enjoying most about living in Liverpool?
The city is fantastic! Everything is within walking distance and a world of football at my feet. As a big coffee drinker, there are plenty of great little spots to nestle in during the winter months.