A year of events to celebrate ULMS 20th anniversary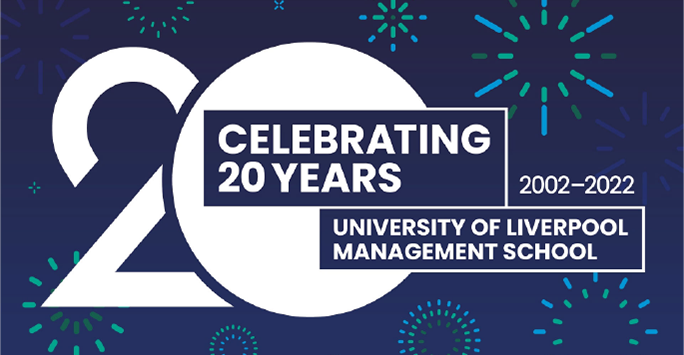 From September 2022, the University of Liverpool Management School (ULMS) celebrates its 20th anniversary with a year of events to commemorate its past, present and future.
The 20 events will take place throughout the new academic year, until August 2023, and will pay tribute to Our Students, Our Network, Our Research and Our City.
The list includes special Open Days, a Gala dinner, networking events with businesses and institutional partners across the region, and the launch of two new research centres.
The School's history has also been told by its people, with staff and students sharing their stories in a short film specially created for the occasion.
20 years of learning to make a difference
The anniversary marks a transformative two decades for the School, from its establishment in 2002, to becoming a triple accredited internationally recognised research powerhouse, with over 30 undergraduate, postgraduate and executive education programmes.
"I am incredibly proud to be Dean of an organisation that has achieved so much in only 20 years," said the School's Dean, Professor Julia Balogun.
"We are now a triple accredited School, with fantastic results in terms of rankings of our programmes and student experience.
"The Athena Swan silver award is recognition of the progress we've made in terms of quality, diversity and inclusivity, and we've just had impressive results in the latest REF (Research Excellence Framework 2021)."
During these 20 years, the School has remained loyal to its vision of becoming a globally connected institution, advancing influential knowledge leadership through ground-breaking research and teaching.
Speaking proudly about the School's progress during the past two decades, Chairman of ULMS Advisory Board, Dr Rick Parry, added: "I think it's fair to say in 20 years we've probably come further than those of us who were around at the start probably imagined.
"I love to see us being right up there, ranked alongside the very best.
"I think it's a really exciting time for the School and I think it's a great place to be."
Making an impact on student's futures and research
The School has evolved to provide almost 30,000 national and international students with industry leading graduate portfolios to 'future-proof' their employability.
Talking about her experience as MBA student at ULMS, Founder and Managing Director at Naturally Tribal, Shalom Lloyd stated: "I don't think I really realised the impact it would have on my career then, and the impact it has on my career journey today."
"I didn't realise at the time how much knowledge, empowerment and confidence, gaining my MBA from the University of Liverpool Management School actually gave me."
With over 230 academic and research staff, the Management School has grown in numbers, but also in research power across its six subject groups.
The School's REF 2021 results reflect a 20-year collective effort to shape world class academic thought, and make an impact on businesses, policymaking and society.
As part of this effort, the 20 anniversary celebrations also bring the launch of a Centre for Sustainable Business and a Centre for Organisational and Employee Wellbeing in October 2022, which will add to the School's existing portfolio of research centres.
This further demonstrates the School's determination to continue improving its research ecosystem and academic curriculum, to address the upcoming social, environmental and technological challenges the future has in store.
Click here to keep up to date and join the upcoming ULMS 20th anniversary events.