Spotlight: Professor Sarah Coupland
Posted on: 20 November 2020 by Louise Colley in 2020 posts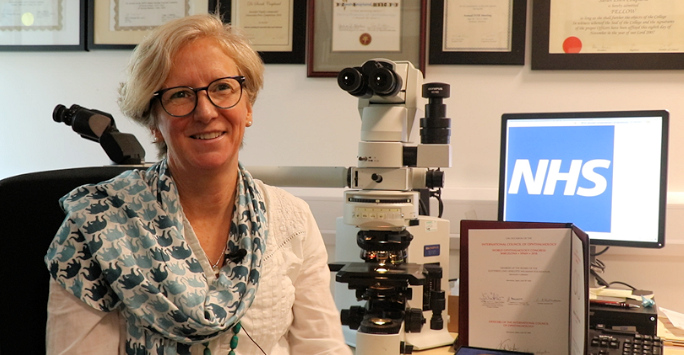 This edition of Spotlight focusses on Professor Sarah Coupland from the Department of Molecular and Clinical Cancer Medicine. Sarah holds the George Holt Chair in Pathology and is an Honorary Consultant Histopathologist at the Liverpool University Hospitals NHS Foundation Trust.
Professor Coupland was recently elected as Vice President for Communications for the Royal College of Pathologists and will also take the lead in Genomics for the College. She will take on these roles from the end of November.
Professor Coupland leads the world–renowned Liverpool Ocular Oncology Group (LOORG). Their research focusses on ocular melanomas, lymphomas and other eye cancers, and employs high-resolution techniques to better understand the development / progression of these tumours to improve patient outcome.
A major strength of the LOORG is that it is a multi-disciplinary team – there is a strong and close collaboration of LOORG with the Liverpool Ocular Oncology Centre - one of the three supraregional ocular oncology centres in England, medical oncologists and radiation physicists at the Clatterbridge Cancer Centre, along with the liver surgical team at Aintree University Hospital.
The close interaction between the consortium's members ensures that the fundamental and translational research undertaken by LOORG addresses key questions aimed at bringing about improved survival and quality of life for ocular oncology patients. It has also enabled the collection of a unique ocular oncology Biobank, which enhances national and international collaborative studies. For example, LOORG played an instrumental role in The Cancer Genome Atlas's study into uveal melanoma and is part of UMCure2020.
Another strength is LOORG's prognostic algorithm designed for stratifying uveal melanoma patients into metastatic risk groups. This algorithm has had clinical impact and is used to manage surveillance programmes for patients in the UK and in ocular oncology centres globally.
Professor Coupland has published ~320 scientific articles (H-index, 50 Scopus), written ~80 Chapters, and has given ~200 keynote lectures. She was awarded the prestigious 'International Council of Ophthalmology's' Pathology prize (awarded every four years) and a 2019 RCPath Excellence Award for 'Significant Contribution to Specialty'. Finally, she was included in the 'The Pathologist' Power Lists of 2019 and 2020.