In this talk he will be discussing his book, Beyond Watchmen & Judge Dredd - the Art of John Higgins, as well as his forthcoming comic series, which will appear in the megazine Dreadnoughts, and his graphic novel America, both of which are set in a dystopian fascist future on the lines of Judge Dredd's Megacity 1, exploring ideas around the breakdown of democracy.
We caught up with John ahead of his talk, which will take place on Sunday 11 October, 5.30-6.30pm.
What did you read during lockdown?
I read as much for research as entertainment - it can be anything from a biography to SF pulp. I re-read the Prey series by John Sandford (quality detective noir) Washington Black by Esi Edugyan, We Were Soldiers Once… and Young by Lieutenant General Hal Moore, A Necessary Evil by Abir Mukherjee, The Book of Dust - La Belle Sauvage by Philip Pullman, and The Three-Body Problem by Liu Cixin - all recommended. I also read a couple of graphic novels: The House of X by Jonathan Hickman and The Magic Order by Mark Millar.
Describe your books in 15 words
Genre-led literature, mainly SF, in comic strip form, word and picture in equal measure.
What do you enjoy most from your wide range of talents?
Eye-hand coordination for black line drawing, colour perception, and a mind that finds nightmares suitable as reference points for stories.
What does success mean to you?
Invitations to conventions and literary festivals around the world with the opportunity to meet the readers of my work face-to-face...ah well!
What two attributes are most important in your job?
To be able to sit still and concentrate for long periods of time. And muscular buttocks!
What do you find rewarding about writing?
Royalties.
What is your most frequently asked question?
"What do you find rewarding about writing?"
What are your three best qualities?
Curiosity, imagination and listening.
What do you get passionate about?
Where to start?! The climate, politicians who are proven liars, ill manners….
What is the worst job you have ever had?
I have had a few duff ones, but it would have probably been selling fire extinguishers door to door; people do not like door sellers, and then the accountant ran off with the money just before the first payday.
What are you reading at the moment?
Earthsea by Ursula K Le Guin. If you enjoyed Lord of the Rings, this is a book for you.
What is your favourite quote?
"Let this be a lesson to you citizen, democracy is not for the people!" Judge Dredd – circa 2142.
Who would be your ideal dinner guest?
The Dormouse from Alice in Wonderland.
What keeps you up at night?
Other than shoving a wooden pole up my night shirt, nothing.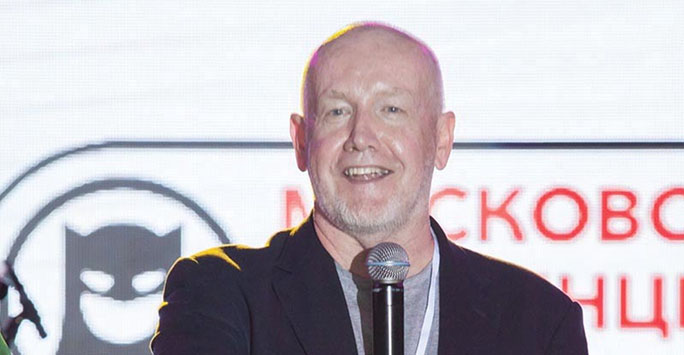 Back to: Liverpool Literary Festival