Petconsent is a project funded by a government research council, the ESRC, who also funded my PhD studies. The Petconsent project aims to increase the amount of shared decision-making between vets and pet owners when deciding about pet healthcare. A really important way to increase participation by pet owners is to provide access to information, so that you know which questions to ask your vet, and you are already aware of some of the options for treatment.
About Petconsent


Petconsent was set up by Carol Gray. Here, Carol describes the background to the project:
"I worked as a vet in practice for 15 years, then moved into veterinary and animal welfare education.
"I completed my 3-year PhD at Birmingham in 2018, on informed consent in veterinary practice, and started a postdoctoral fellowship at Liverpool in October 2019.
"I have a passion for greyhounds and cats (but have had to choose one or the other lately!) My current greyhound is Henry (my fifth!) who keeps me and my partner in line.
"My hopes for the project are that it leads to more, and effective, shared decision-making in vets' consulting rooms. Research has shown that shared decisions are better than those made by one person (this study looked at parents making decisions for children). If directly applicable to pets and owners, then the results should be increased animal welfare and owner satisfaction.
"I'm hoping to keep everyone who's interested up to date with a monthly blog, or you can follow us on Twitter @petconsent"
Contact
—
DISCLAIMER: the information collated on these pages is not designed to replace a visit to the vet, but to supplement it. The author of this site cannot be held responsible for any inaccurate information, which has been reviewed in good faith. Petconsent has no control over any of the sites to which the site is linked, and therefore is not responsible for the content of any off-site pages or any other sites linked to the Petconsent site.


—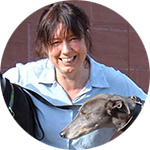 My hopes for the project are that it leads to more, and effective, shared decision-making in vets' consulting rooms.

Carol Gray
Back to: Liverpool Law School