Covid-19 has had a hugely detrimental impact on the lives of young people, but the challenges facing unaccompanied young people seeking asylum have been further compounded by disruption caused by the pandemic to asylum processes and welfare support services. Additionally, the post-Brexit legal environment may further affect the rights available to child migrants in the UK. Many teenagers on the cusp of adulthood will find their children's rights disappearing while still waiting to be granted asylum.
Thanks to ESRC funding, this interdisciplinary research provides the first detailed study of the effects of the legal and welfare effects of Covid-19 on unaccompanied young people seeking asylum aged 16 – 25. As well as evidencing how their legal, welfare and civil society representatives are responding to delays in front line services, it suggests concrete legal, policy and practice proposals to ensure their rights and welfare are upheld.
The study explores the impact of Covid-19 on the delays in the asylum process and more importantly gives voice to young unaccompanied asylum seekers, with a focus on Albanian young people as a prominently marginalised group. This element examines the extent to which Covid-19 compounds young unaccompanied asylum seekers' exposure to risks such as exploitation, poor mental health, and the risks of additional delays 'ageing out' young people from the special protections currently available to children within the system.
The Principle Investigator is Professor Helen Stalford, who is Head of Department at Liverpool Law School within the School of Law and Social Justice, University of Liverpool. Co-Investigators are Dr Elaine Chase, Associate Professor in Education, Wellbeing, and International Development at UCL, Dr Ingi Iusmen, Associate Professor in Governance and Policy and Dr Jana Kreppner, Associate Professor in Developmental Psychopathology at University of Southampton, and Dr William Shankley, Assistant Professor in Sociology in the School of Sociology and Social Work at University of Nottingham. Importantly, the project team worked with a group of 10 unaccompanied young asylum seekers as co-researchers, accessed through and supported by the Albanian-support charity, Shpresa Programme.


Watch a short documentary film
Co-produced by LOHST and PositiveNegatives.


The rapid response, multi-informant study explores how asylum seekers aged 16-25, and lawyers, social workers, charities, and support organisations, are responding to the delays and disruption in front line services. The findings suggest legal, policy, and practice proposals to promote their rights and wellbeing.
Further insights from the 'Lives on Hold: Our Stories Told' project will be available from 26th January 2023. Additional information on the project and its motivations can be found on www.livesonhold.org.
The LOHST research project is coordinated by UCL Institute of Education, University of Liverpool, University of Southampton, and Shpresa Programme. It is funded by the Economic and Social Research Council (ESRC), as part of UK Research and Innovation's rapid response to Covid-19.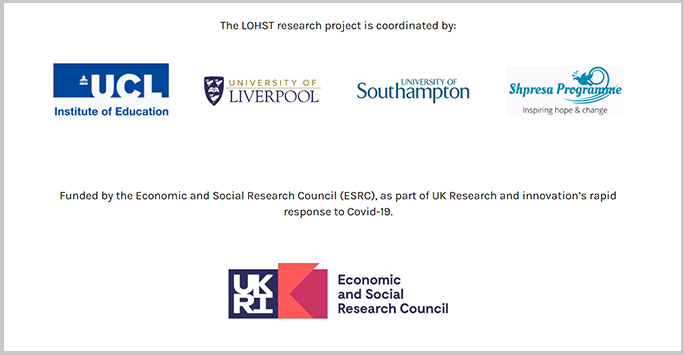 Find out more
Back to: Liverpool Law School