A Brexit and children coalition

Members of ECRU are working closely with over 30 children's rights organisations, academics and practitioners across the UK as part of a Brexit and Children coalition. The coalition raises public awareness and briefs parliamentarians regarding the specific implications of Brexit for Children. Its activities have led directly to a series of proposals for amendment to the EU withdrawal bill, aimed at providing better protection for children as the UK prepares to leave the EU.
Read the report: Making Brexit Work for Children: the impact of Brexit on children and young people.
EU settlement scheme

ECRU focused its efforts on ensuring that the EU settlement scheme - the immigration process which all EU/EEA/Swiss nationals living in the Uk had to go through - was implemented in a way that protects children. We are worked with the Home Office to ensure that looked after children, Roma children, children with criminal convictions and children with disabilities have appropriate information, support and access to the EU settlement scheme. Information for EU/EEA Citizen Children, including Home Office-approved FAQs can be found on our designated EU Settlement Scheme page.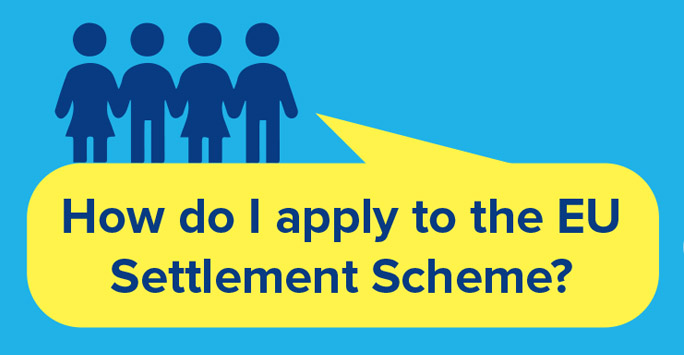 We have also been working with Professor Kathryn Hollingsworth (Newcastle University) to draw attention to the ways in which the Scheme disadvantages children with criminal convictions. See our briefing paper:
How The EU Settlement Scheme Potentially Disadvantages Children with Criminal Convictions
Briefing: The EU Settled Status Scheme and Children in Conflict with the Law
If you would like more information on the work of the Brexit and Children coalition, please email Professor Helen Stalford.
Brexit Research Briefings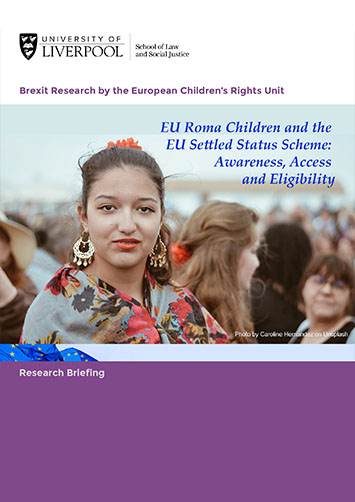 EU Roma Children and the EU Settled Status Scheme: Awareness, Access, and Eligibility
Research Briefing by Helen Stalford and Dyfan Humphreys, September 2020
EU Roma Children and the EU Settled Status Scheme - September 2020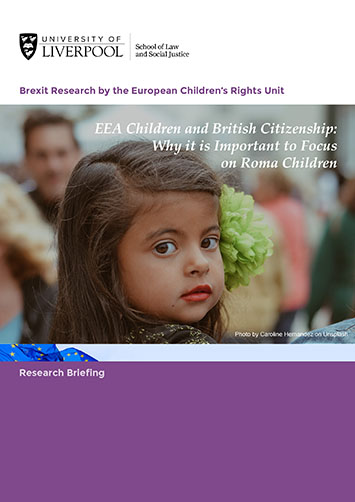 EEA Children and British Citizenship: Why it is Important to Focus on Roma Children
Research Briefing by Helen Stalford and Dyfan Humphreys, September 2020
EEA Children and British Citizenship - September 2020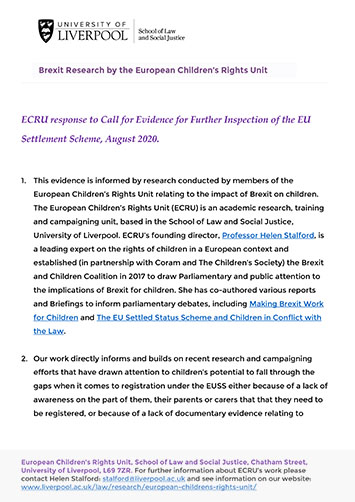 ECRU response to Call for Evidence for Further Inspection of the EU Settlement Scheme
Helen Stalford and the European Children's Rights Unit, August 2020
Evidence to Independent Chief Inspector of Borders and Immigration - August 2020
Earlier Reports and Briefing Papers
Our children are being put at risk over Brexit - only a Final Say vote can protect their futures
The Independent Voices - Helen Stalford, 31 January 2019
Read the article on The Independent's website
Back to: Liverpool Law School