Learning in the time of the Coronavirus
Posted on: 1 April 2020 in 2020 posts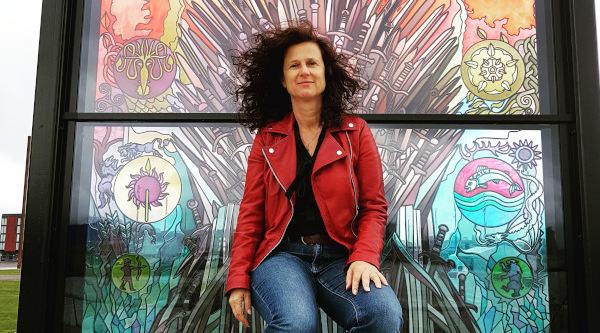 Following the virtual guest seminar from German author and journalist Kerstin Carlstedt last month, we asked students for their feedback on the session and to find out what they think of the move to online teaching.
Hanna, final year Business Studies & German student, said:
The last few years have shown how much of an influence video gaming has, with people of all ages dancing to "The Floss", and an increase in esports - where thousands tune into watch video game championships, with the victorious winning enormous prizes. However, one video game in particular has dominated the industry: Fortnite.
After discussing the controversy of video gaming, and Fortnite, with my class earlier this semester; I was fascinated by their explosive popularity and the large sums of money many YouTubers and video-gamers are making through playing this game.
On Monday 16th March, Liverpool University gave us an amazing opportunity to speak with Kerstin Carlstedt about her latest novel Let's Play: Fortnite - So ticken deine Lieblings-Gamer - translated to 'What makes your favourite gamers tick'. In this novel Kerstin explores various topics around video-gamers, including the increase in popularity and success of young Fortnite gamers.
Following the COVID-19 outbreak, we were given the opportunity to benefit from the author visit through a lecture hosted by video call. It was fascinating to understand Kerstin's inspiration and insights to write such a great novel, as a German author based in Liverpool. Kerstin explained to us that the inspiration behind her novel was her own sons' love for the game, and despite moving to Liverpool she continues to enjoy writing German novels!
We are very grateful that Kerstin took the time to talk to us during a time of uncertainty, and with this she gave us a great insight into her life as an author. It has given all of us the inspiration to continue to practice our German language skills whilst keeping safe at home.
Final year French and German student Camilla added:
After the closing of the University of Liverpool for the remainder of the 2019-2020 academic year, all the classes had to be moved online. Therefore, I had my first Zoom meetings for my German seminars last week.
I still prefer the face-to-face version because it feels more like a community to me and I value the opportunity to get more practice in speaking a foreign language with my classmates. However, I find the online version convenient for a number of reasons: first, you can literally get up a couple of minutes before your class starts and you do not even need to look presentable, because neither your teacher nor your classmates are going to see you. Secondly, the class takes up only the hour that it usually lasts, because you do not need to travel to campus and then come back home.
All in all, I feel very lucky that we benefit from these digital tools that allow us to continue our education from home. Besides, the fact that we are surrounded by technology in our daily lives, will help us adapt quickly to this new way of teaching.
Final year French and German student Jenna-Mae said:
"Despite the chaos of face-to-face lectures and seminars being cancelled, setting up and participating in the virtual seminar was easy and hassle-free - there was also something quite nice about participating in a seminar wrapped up in my duvet with a mug of coffee! It was really interesting to speak to Kerstin about her work and her life as an author, as well as being able to practise my interpreting skills with her. While it was sometimes difficult to hear her clearly because of connection issues on my end, it was still great practise and certainly good preparation for "real world" scenarios. I'd like to give Kerstin and my tutors my thanks for their time and last-minute preparation!"
Discover more
Read part one, teaching in the time of the Coronavirus.
Study in the Department of Modern Languages and Cultures at the University of Liverpool.
Visit Kerstin Carlstedt's website.
---
We understand that this is a worrying and uncertain time for everyone, and the wellbeing of our students is our highest priority.
The University is here to offer you support and guidance as you continue with your studies. Please check your University email account daily so that you can continue to access advice and support from your module tutors regarding the shift to online teaching and alternative assessments.
The School will communicate with you regularly in response to students' key concerns. Information is also available on our Coronavirus advice and guidance pages.
However, if you are have a specific query that you are unable to find the answer to online, please contact either your Academic Advisor or the Student Support Centre at hlcenq@liverpool.ac.uk
---