Clinical academic careers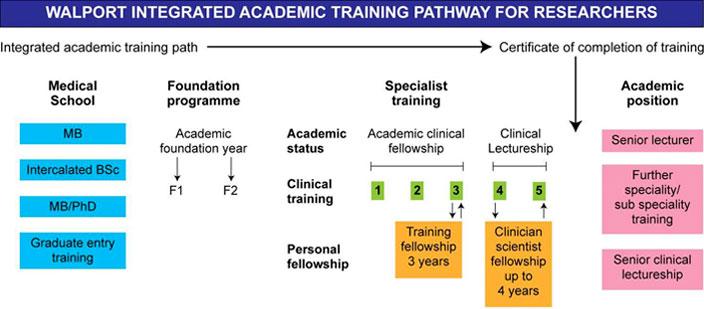 What is a clinical academic?
A clinical academic is a fully trained Consultant or General Practitioner (GP) from any medical specialty.
A fully trained Academic Senior Clinical Lecturer, Reader, or Professor, employed by the University, spends approximately 50% of time undertaking clinical work in the NHS and 50% on university-based research and teaching.
The career pathway from medical student to Consultant or GP encompasses a five to six-year undergraduate medical degree, followed by a 2 year Foundation Programme within a hospital. Aspiring clinical academics can pursue a 2 year Academic Foundation Programme option instead.
A 2 year Basic Specialist Training (BST) programme follows this, allowing doctors to choose a specialty to train in. Aspiring clinical academics can complete this as part of a 3 year Academic Clinical Fellowship (ACF).
Higher Specialist Training (HST) is the final stage, and takes four to six years to complete, depending on the specialty. HST is designed to bring a doctor's skills, knowledge and experience up to the standard required for independent, specialist practice. Aspiring clinical academics can complete their HST during an Academic Clinical Lectureship post (ACL). This takes 4 years, or until Certificate of Completion of Training (CCT) is gained.‌
---
Why enter a clinical academic career?
Competition is fierce and training is demanding, but as a clinical academic you will be an expert in your chosen field.
You will support healthcare professionals across the country to deliver the best possible care, by undertaking research studies that inform clinical decisions and improve patient treatment.
It is a career ideally suited to those who can demonstrate the highest standard of academic ability, combined with a passionate dedication to research.
---
How can ICAT help you?
Academic research is an exciting and fast-growing career pathway for clinicians. Integrated Clinical Academic Training (ICAT) is a specially designed programme of training and mentoring, supported through National Institute for Health Research (NIHR) funding.
ICAT enables clinical trainees to gain postgraduate qualifications, such as Masters (MRes, MSc, MPhil) and Doctorate (PhD, MD) degrees, in preparation for undertaking senior academic roles in the future.
Undergraduate medical students who are interested in pursuing a clinical academic career should consider intercalating for a BSc, MPhil, MRes or MSc. The research education and activity gained will ensure you have a competitive advantage at the early stages of academic career development.