News and Events
Worshipful Company of Actuaries Annual Lecture - Build to Rent - 26th February 2020
Speakers: Miria Whittle and Charlie Hibbert
Flyer for WCA Annual Lecture 2020
---
ATRC Conference 27th & 28th June 2019
Department of Chemistry Donnan Building Gossage Lecture Theatre
---
PARTY 14th-19th April 2019 (Perspective on Actuarial Risks in Talks of Young researchers)
We had a fantastic conference on current actuarial topics. For more details click here.
---
Leeds-Liverpool Workshop 14 February 2019
We had a great one day workshop with 6 exciting talks on current actuarial and financial topics. For more details click here.
---
RARE grant special issue in the Annals of Actuarial Science
Our 4 year EU Marie Curie (IRSES) RARE (Risk Analysis, Ruin and Extremes) grant (Dec 2012-2016) has a special issue that has appeared in the Autumn edition of the Annals of Actuarial Science, featuring a foreword written by Paul Embrechts.
---
Congratulations to 2018 IFAM graduates
Congratulations to the 7 IFAM PhD students who graduated on 20th July 2018. They were Suhang Dai, Norazliani Binti Md Lazam, Poontavika Naka, Lewis Michael Ramsden, Malgorzata Seklecka, Meng Simon Wang and Wei Rock Zhu.
Image: L to R Lewis Ramsden, Wei Zhu and Suhang Dai.
---
---
IFAM staff to attend SAFIM 2018
Staff from IFAM have been invited to attend Stochastic Analysis, Financial and Insurance Mathematics (SAFIM 2018) workshop organised by the African Institute for Mathematical Sciences (AIMS), Ghana to be held from 20th to 24th August, 2018 at Tomreik Hotel in Accra, Ghana.
---
IFAM staff benefit from Santander Mobility Award
Dr Apostolos Papaioannou and his PhD student Lewis Ramsden received funding from the Santander Universities Staff Mobility Awards scheme that enabled them to visit the University of Wroclaw in Poland in June 2017 to collaborate on a research paper on ruin theory with Professor Zbigniew Palmowski and to develop ongoing links with the the University of Wroclaw in financial and actuarial mathematics.
Image: Lewis Ramsden (left) and Dr Apostolos Papaioannou (right) during their research visit to the University of Wroclaw in Poland funded by a Santander Universities Staff Mobility Award
---
Students benefit from work experience with MAXIS Global Benefits Network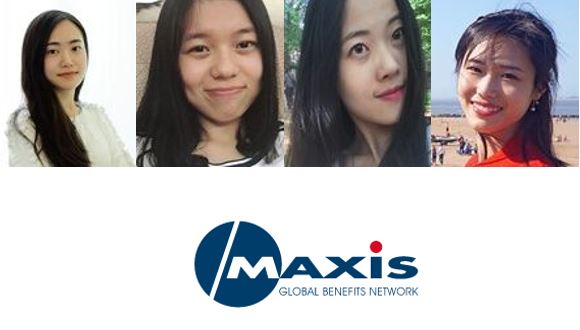 Four of our students have recently benefitted from work experience placements with MAXIS Global Benefits Network.
Tianyuan (Nina) Ni, a postgraduate student supervised by Dr Hirbod Assa has a six month paid internship working as a Project Management Officer under the guidance of Dr Matthias Helmbold, Head of Technical at MAXIS-GBN.
Tianyuan is working on Applying Machine Learning Algorithm on Forecasting Economic Factors. This involves managing a variety of projects for multinational companies to combine local benefits programs into an international pool through reinsurance; analyzing project data and maintain overall statuses, manage all teams to deliver employee benefits and risk management tools to clients and supporting senior managers to analyze the mechanism and performance of different health and wellness programs and solutions.
Undergraduate students Jiarui (Carrie) Cui, Xiaoshuo (Apple) Cui and Yiqiang (Chloe) Lu also obtained two month paid internships as reporting analysts.
Their roles involved working on a project to merge existing separate client data bases onto a new integrated system. The students benefitted greatly in developing data analysis and report creation skills, interacting with a variety of teams within the company which enhanced their understanding of the business.
---
Exponential Investor highlights IFAM collaboration with Stable
Exponential Investor has recently interviewed Richard Counsell, founder and CEO of Stable, a startup that's looking to help farmers cope with fluctuating prices. The article (which you can read here) highlights their collaboration with Hirbod Assa, whose team used machine learning and multiple algorithms to run millions of simulations analysing decades of Government data.
"Stable" is an agricultural insurance that helps a wide range of farming businesses protect themselves from volatile prices and costs. It's all based on public indexes from Government organizations like the AHDB and DEFRA. The reasons Stable is introduced are:
There is no good market for agricultural insurances on price fluctuations in the UK.
There are only derivatives on arable in the EU that are not insurance; since insurances are not for speculation (must be issued at an amount for clients) and they have different markets.
Brexit and the removal of the common agricultural policy can eventually damage livestock businesses in the UK and in particular Wales.
The products that we consider are put and call spreads. In a few papers, Dr. Assa has shown the universal optimality of these type of insurance contracts in many applications. Thus, we needed to work with these contracts and find the two optimal retention levels so that they can fairly manage the risk of clients and make the investment profitable. In this project, we needed to consider two ends of a new market, demand and supply sides. The demand for insurance is made by risk-averse farmers and farm-product consumers who are looking for better utility and the supply side consists of investors who invest in this business and issue insurance for making a higher profit. On one hand, we needed to convince clients that our product is a good enough product to manage the risk of volatile prices and on the other hand we needed to convince investors that there is a portfolio of the products that pay enough profit. To achieve this, we controlled key performance indicators according to market demand and supply and filtered the simulated products to achieve the optimal ones. We are now monitoring the performance indicators in our dashboard at real time on a daily basis; some of the key indicators are: Return over investment, Loss ratio, Exercised ratio, Farmer lose frequency, Investor lose frequency and Positive ROI ratios.
---
---
---
Also see news on the Department website.
---