She has 20 years' experience of working in social and health settings including mental health units, hospitals, prisons and community centres, as well as well as performing with many leading orchestras such as the Royal Philharmonic, Bournemouth Symphony Orchestra, Halle, BBC Philharmonic, Manchester Camerata and the Royal Liverpool Philharmonic Orchestra.
Her experience in the creative and interactive use of music includes long term partnerships with Mersey Care NHS Foundation Trust, Alder Hey NHS Foundation Trust, Live Music Now, DadaFest and Drake Music. She won the Merseyside Woman of the Year 2019 award in the category of Arts, Culture and Media as well as the NHS Positive Achievement Award in Mental Health.
Georgina's work is embedded into the Centre for Health, Arts, Society and Environment. Georgina contributes to the delivery of the Arts, Mental Health and Wellbeing module at the MA in Health, Cultures and Societies (link to the MA).. Her pre-doctoral fellowship, funded by the NIHR, was supervised by the director of CHASE.
Georgina aims to foster critical inquiry, dialogue and creativity to build new knowledge about enabling creative communities through music collaboration and cross-sector partnerships. Her music activities are co-produced and co-evaluated with participants through innovative participatory methods to develop research through practise.
Research interests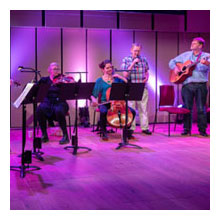 Georgina was awarded a Pre-Doctoral Local Authority Fellowship by the NIHR to explore the influence of non-clinical music interventions on mental wellbeing and recovery in the community. Her research aims to investigate the benefits of such interventions to inform a sustainable and scalable model of delivery.
Approach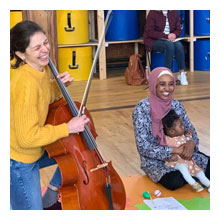 Georgina's work is based on 5 key approaches which she refers to as "a pentatonic scale of approaches in C: Connect, Collaborate, Create , Care, Commit." Through collaboration and creativity, she seeks to enhance the human experience in mental health care and provide detailed documentation of the interactions and experiences of participants to better understand the benefits of non-clinical music interventions on wellbeing.
This short film showcases the music, art works and words produced by participants during the music sessions across various sites.