Outpost project
Details of outpost projects can be found below
GCRF-BBR: The Tick Cell Biobank: outposts in Asia, Africa and South America.
(BBSRC grant no. BB/P024378/1)
This project, which ran from 2017 to 2021 and was funded by the BBSRC Global Challenges Research Fund (GCRF) BBSRC-CGRF Funding, has established outposts of the parent Tick Cell Biobank in Malaysia, Kenya and Brazil. The aim is to facilitate uptake of tick cell lines by researchers in South-East Asia, Africa and South America through local access to cell lines and associated training. This is needed because, while there is a year-on-year increase in scientific publications reporting use of tick cell lines, and on average over half of these deal with tick and tick-borne disease problems of lower-and-middle-income countries (LMIC), only a tiny proportion of this research is actually carried out in LMIC laboratories.

Numbers of publications using tick cell lines (blue) that deal with LMIC ticks and tick cell disease problems (red)

Proportion of publications dealing with ticks and tick-borne disease problems that issue from LMIC (red) and high-income countries (blue)
Better access to tick cell lines and associated expertise will enable LMIC scientists to exploit these unique tools in their research, assisting them to deliver locally-generated solutions to their tick and tick-borne disease problems affecting human and animal health.
Each Outpost is being stocked with a panel of the internationally most popular tick cell lines originating from the parent Tick Cell Biobank and the University of Minnesota, plus cell lines derived from regionally-relevant tick species. The Outposts will supply tick cell lines to scientists within their geographical area, thereby reducing access costs and logistical difficulties compared to sourcing tick cells from the UK, but subject to the same Material Transfer Agreement conditions. Each outpost will provide locally-tailored training for recipient scientists to facilitate successful transfer and exploitation of tick cells in their laboratories. Additionally, each Outpost will aim to establish novel cell lines from local tick species or geographical strains not already represented in the collection, either by themselves or in collaboration with other project members or local scientists.
---
Tick Cell Biobank Outpost teams:
TCB Asia
TCB Asia is located at the University of Malaya in Kuala Lumpur, Malaysia, and is based in the Tropical Infectious Diseases Research and Education Centre (TIDREC) http://www.tidrec.com/. The team comprises Prof. Sazaly AbuBakar (PI), Dr Lucas Van Lun Low, Dr Zubaidah Binti Ya'cob, Dr Norhidayu Binti Sahimin, Ms Nurul Aini Husin, Ms Mulya Zulkifli and Mrs Siti Sarah Nor'e.
TCB Africa
TCB Africa is hosted by the Tick Unit at the International Livestock Research Institute (ILRI) in Nairobi, Kenya, and run by Dr Naftaly Githaka (PI) and Mr Milton Owido.
TCB South America
TCB South America is located at the Oswaldo Cruz Institute (Fiocruz) https://portal.fiocruz.br/en in Rio de Janeiro, Brazil and run by Dr Flavio Alves Lara (PI) and Mr Diego Oliveira. The other members of the Brazilian team, Prof. Adivaldo Fonseca (Co-PI) Dr Bruna Baeta and Prof. Lucia Pinto da Silva of the Federal Rural University of Rio de Janeiro (UFRRJ) provide advice, expertise and support to the Outpost.
---
Progress in the first and second years:
The Outposts project commenced in July 2017; we held a start-up meeting (December 2017) and a training workshop in Biobank management for the Outpost teams (April 2018) in Liverpool. Each team was involved in preliminary planning (identifying suitable dedicated laboratory space, obtaining estimates for equipment etc.) in conjunction with Liverpool staff who visited each Outpost during the second year. The next phase of the project involved equipping each Outpost with the required dedicated equipment and consumables and putting in place the necessary administrative platforms, before stocking the Outposts with the selected tick cell lines.
---
Progress in the third year:
In the third year, each Outpost held an initial training workshop for local scientists, assisted by the Liverpool team. The first of these workshops, hosted by the TCB South America team at Fiocruz, Rio de Janeiro, on 29th-31st July 2019, was attended by twelve young scientists – ten from Brazil and one each from Argentina and Uruguay. All the trainees were already involved in tick-related research and some had previously used tick cell lines. Following the workshop, several of the scientists requested and received additional tick cell lines from the TCB South America Outpost for their research.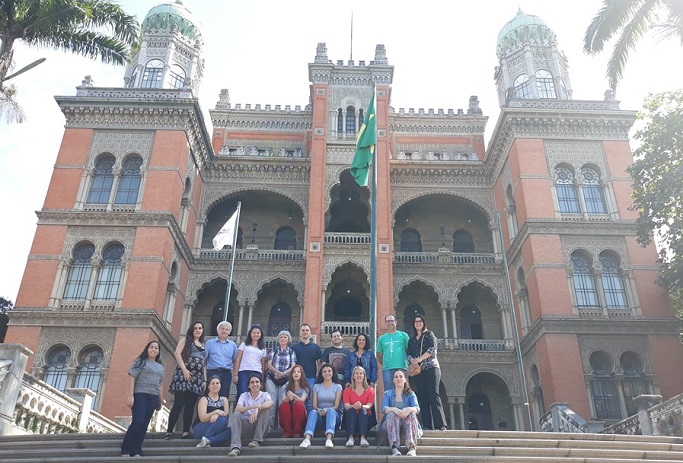 The second training workshop, hosted by the TCB Africa team, was held at ILRI, Nairobi, on 20th-22nd January 2020. Eight young African scientists attended – four from different institutes in Kenya and one each from Cameroon, Benin, Burkina Faso and Tunisia. Although all of the trainees were already involved in tick and/or tick-borne disease research, most were cell culture novices and found the workshop to be a really useful general introduction to this technology as well as to the more specific aspects associated with tick cell line generation and maintenance. As well as input from the Liverpool team, this workshop benefited from the expertise of another of the world's "grandmothers" of tick cell culture, Prof. Ulrike Munderloh of the University of Minnesota.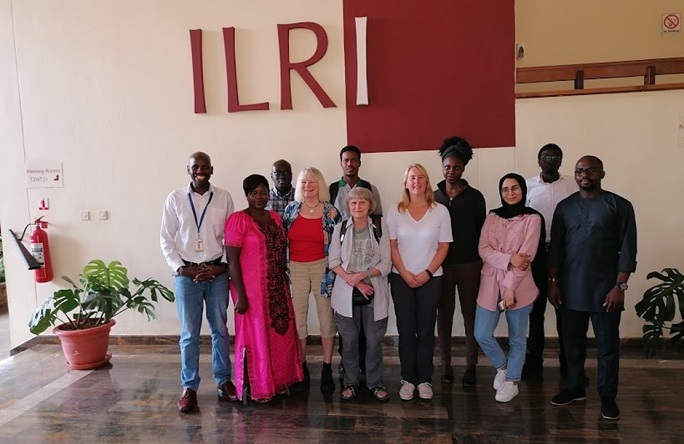 The third workshop, hosted by the TCB Asia team at TIDREC, University of Malaya, took place on 6th-8th March 2020, in the early stages of the Covid-19 outbreaks in both UK and Malaysia. As a result, some of the trainers and trainees were unable to attend due to institutional or national travel restrictions. However, the workshop went ahead regardless, with six scientists from Malaysia, two from Thailand and one from Indonesia receiving an introduction to tick cell culture and its applications. In contrast to the first two workshops in Brazil and Kenya, the majority of the trainees were not previously involved in tick research, so they also gained useful knowledge about ticks and tick-borne diseases in general.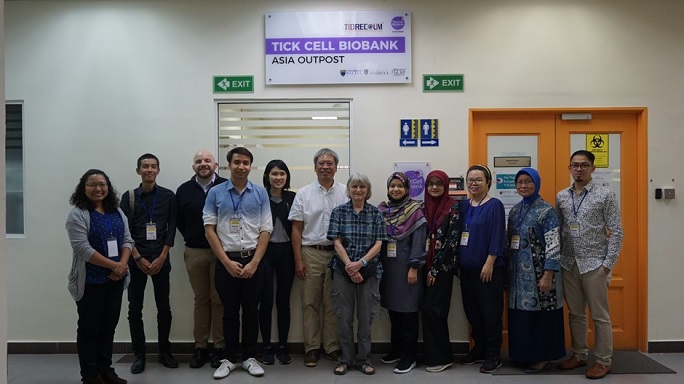 ---
Progress in the fourth year:
Due to the Covid-19 pandemic and consequent restrictions in all four participating countries, the Outposts project received a no-cost extension until June 2021. We are currently engaged in stocking each Outpost with tick cell lines not already present in their laboratories
Back to: Faculty of Health and Life Sciences