Anatomy students pay tribute to body donors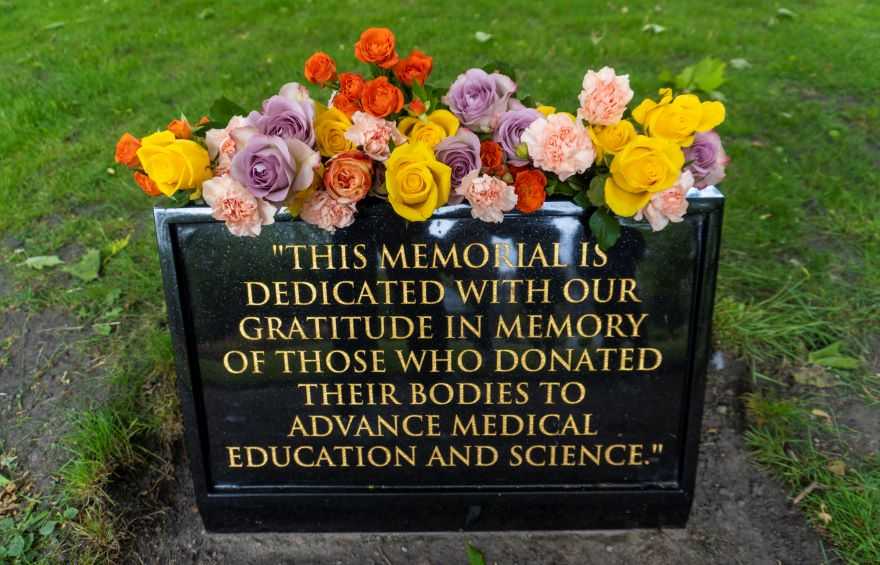 To mark the completion of their formal training in Anatomy, 2nd year student doctors have visited the memorial stone in Abercromby Square to show appreciation to the donors they have learned from during their studies.
The Human Anatomy Resource Centre (HARC) is a specialist facility that delivers anatomy training to students from across the university's many clinical, scientific and allied health degree programmes, as well as medical CPD courses.

A dedicated team of highly skilled staff welcome over a thousand students per year through their doors to deliver cutting edge and award winning anatomical teaching. At the heart of all their work are their body donors – a community of people who have generously given their body to medical science at the time of their death.

Anatomy is a core part of the MBChB curriculum at Liverpool and an essential part of any clinician's skillset.

The memorial visit is an act in recognition and respect of the educational gift generously afforded to them by those donors and their loved ones. Accompanied by HARC staff, each of the 300+ students will visit to lay a flower at the memorial.

Dr Neil Thomas, Anatomy Lecturer in HARC and MBChB Course Lead for Anatomy said:
"This week over 300 of our student doctors have been laying flowers as a mark of respect for our donors. The incredibly selfless and generous contribution from each of our donors and their families creates a set of educational opportunities that cannot be gained in any other way. They have helped these students on their way to becoming knowledgeable and compassionate doctors, and to learn from them is an enormous privilege.
This personal act of remembrance is a touching way to mark the end of a special part of their training".

For more information about HARC, please visit: https://www.liverpool.ac.uk/education-directorate/harc/