Dr Kashmir Gill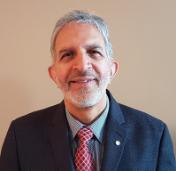 Kashmir Gill is an alumnus of the University of Liverpool where he obtained his bachelor's degree in Mechanical Engineering. Upon graduation he moved to Canada to pursue further studies at the University of Calgary (Masters) and, later, at Queen's University in Kingston, Ontario (PhD). Kashmir's professional career over four decades in Canada spanned the academic, industry and public sectors, evolving from industrial research to technology commercialization and then senior management.
From 2005 to 2016, Kashmir served as Regional Director of the National Research Council of Canada's Industrial Research Assistance Program, helping to accelerate the growth of technology-based small and medium-sized enterprises. After taking early retirement he was appointed by the Government of Alberta to serve as a Member of the Alberta Research and Innovation Advisory Committee, a group of eleven international experts recruited to provide independent advice and counsel to the Minister in charge to help develop the best-in-class innovation ecosystem in the province. Now in semi-retirement, he continues to follow his community passion by supporting entrepreneurs and start-up ventures in the local technology sector by acting as an advisor, coach, mentor, and as an angel investor. Additionally, as an Expert Advisor and Canadian representative for University Innovations Global, he is helping to build healthy innovation ecosystems and grow sustainable businesses.

Kashmir believes this as an extraordinary time and opportunity for him to support his alma mater reach new heights by bringing an international perspective from his diverse Canadian experience. He is inspired to bring his insights in innovation, leadership, partnerships, community building and multicultural diversity to the University of Liverpool's Council. Additionally, Kashmir is passionate about community service more broadly, and he has led many volunteer groups as a Board member and/or Chair to build bridges and leverage the diversity of communities he has called home.

Born in Punjab, India and raised in Bradford, West Yorkshire since an early age, Kashmir has called Canada home for more than forty years. Today, he lives in the small community of Beaumont, an early French settlement, which borders Alberta's capital city of Edmonton and North America's largest energy park. Kashmir is an avid traveler and loves to explore different cultures around the world. His top sports passion continues to be football, with life-long allegiance to one of Merseyside's two elite teams.