"You all have been the fuel to my fire": Anjum's message to alumni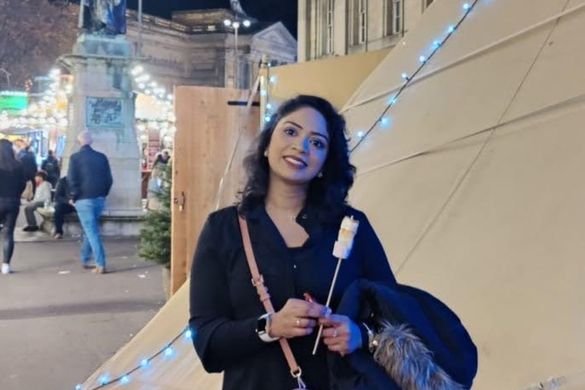 After a two-year break, earlier this year our Alumni & Friends Telephone Campaign returned. This opportunity to speak to our alumni and supporters is one of our favourite activities throughout the year, but following the lockdowns and difficult times for many, this year really felt special. It was a great opportunity to reconnect with Liverpool alumni, share and swap news and updates, and to thank you for your continued support and commitment to the University.
This year, our student caller team focused on supporting their peers through the Student Experience Fund. The Fund exists to ensure all our students receive the best Liverpool experience possible, from financial support so that those facing unexpected hardship can go on to complete their studies, to empowering students with skills and networks to succeed beyond graduation.
We had a team of 30 excellent callers and we are delighted to share with you a message from one of them, second year PhD student, Anjum:


"Dear alumni family,
I would like to personally thank each and every one of you. Thank you for your time and your great generosity! We greatly appreciate your donation, and your sacrifice.
For all the time you spent talking to us and for sharing such wonderful life experiences; motivating to us to go out there and compete our degrees, and donating your hard-earned money to help us achieve our dreams.
Connecting with you has been the best part of the job; hearing both the good and the bad. Hearing stories about how you achieved your ambitions, or how you decided to change career paths midway through life. How you found your passion for sports, music and art in social clubs and societies on campus. The challenges you have faced since graduating, and how you overcame them. It made me very emotional, and most importantly I felt closer to the university after talking to our alumni.
Donations from wildly respectful, generous, and big-hearted people like you makes me want to work hard and graduate soon just like you all did. You all have been the fuel to my fire especially after the disruptions my studies faced due to Covid-19, and I could not be more grateful than I am for you now in this moment.
All your generous gifts and support is invaluable to us, thank you again!
Anjum"


Thank you to all alumni who have supported the campaign by picking up the phone; as you can see, you have truly made an impact on our student callers.
If you would like any more information about the Student Experience Fund or how you can get involved with the University, please visit our Giving pages or email us via: giving@liverpool.ac.uk