Name a Seat Stories: Father's Day celebrations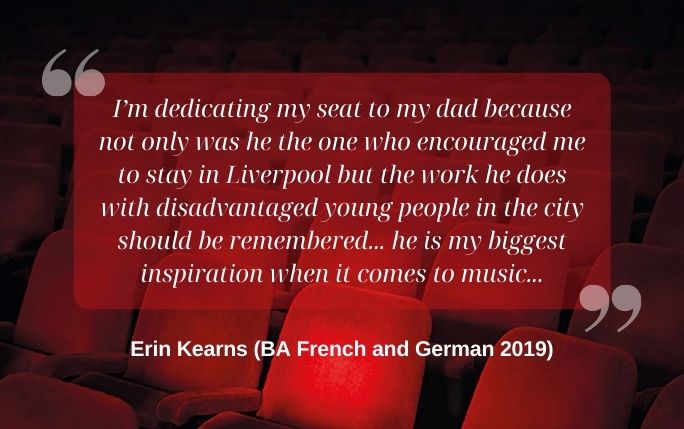 Since its launch in 2019, many alumni and friends of the University of Liverpool have taken part in the unique opportunity to name one of the 400 seats within The Tung Auditorium at the heart of the Yoko Ono Lennon Centre. Choosing to name a seat to commemorate their time at university or to celebrate family and friends, each dedication has its own story. In another of our name a seat stories, alumna Erin Kearns (BA French and German, 2019) shares why her seat will be dedicated to her father Philip this Father's Day.
"My time at the University of Liverpool has ultimately changed my life, and continues to do so, just as I am about to complete my master's degree. Originally being from Liverpool anyway, I had dreamt of moving away for university and initially had my heart set on going to a university in London. However, my mind was quickly changed when I attended a modern languages open day at Liverpool back in 2015 with my dad. After an amazing day, I always remember him saying, "the grass isn't always greener on the other side!" and he was probably right. Liverpool was my city, and I knew that with the degree I was choosing I'd have the opportunity to live abroad at some point anyway. 6 years later and I'm still here!
I'm dedicating my seat to my dad because not only was he the one who encouraged me to stay in Liverpool but the work he does with disadvantaged young people in the city should be remembered. He has worked for Merseyside Youth Association's Noise project for the past 20 years, a project that offers free music tuition, artist mentoring and wellbeing support for aspiring musicians aged 11-25 in the city. He is my biggest inspiration when it comes to music and after having experienced success with his band The Hoovers in the 90's, I'm always telling him to release the music he makes now. Maybe one day!
For the past 3 years I have worked at The Beatles Story exhibition on the Albert Dock and have witnessed our guests moved to tears because of the emotion's music evokes in people of all ages. Music is a massive part of my life and having witnessed the impact it can have on lives, making it more accessible is something I'm very passionate about.
I'm excited to see what the future holds for the new Yoko Ono Lennon Centre and can't wait to see the building become engrained into the cultural heritage of the city for decades to come.
Happy Father's Day dad!"
Thanks to supporters like Erin, more than 250 seats have now been named in The Tung Auditorium. With just under a year until the Centre's opening, we are incredibly thankful to the support we have received so far.
If you would like to part of this legacy, please visit our dedicated webpage. We would love to hear your stories, if you would like to share yours please email: giving@liverpool.ac.uk
We've saved you a seat...now put your name on it