A special thank you from IntoUniversity student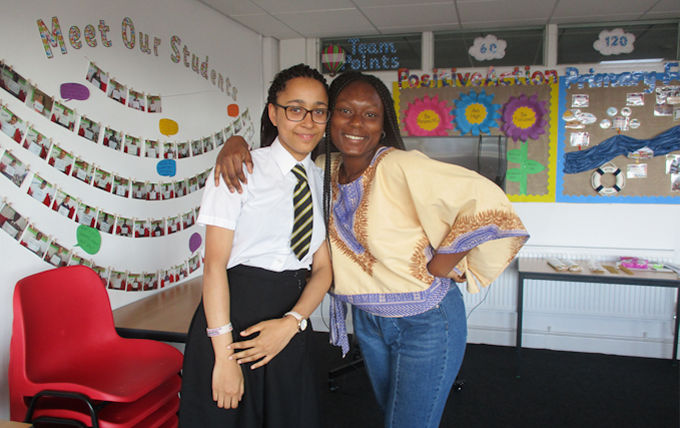 Last month, IntoUniversity North Liverpool Centre received a £300k 'birthday gift' to help mark their 2nd birthday as a result of a successful fundraising campaign organised by the University of Liverpool.
One of the centre's students, Precious, wrote about her experience at IntoUnviersity over the past two years, demonstrating the impact of the centre on young people in North Liverpool.
"Dear supporter,
My name is Precious I'm a student at Hugh Baird College here in Liverpool. But I'm planning to go to Carmel College next year and do my A Levels which consist of Chemistry, Biology and Maths. Since I have attended this program I've made a really big change and I've had a really beautiful experience so far. And learning new things every single day. I come to academic support twice a week to get help with my homework or advice on how to improve myself in different areas every day.
As a student at IntoUniversity you get a lot of opportunities offered to learn and experience new things that will help you academically also socially and learn about different careers that you can go into when you grow up. When I first came here two years ago I wasn't really educated in English and I had difficulties trying to understand what people were trying to tell me and they helped me to build up my communication skills and also how to improve my confidence and how to tackle on my homework and give advice on how to revise for my exams. Also as one of the first students of the centre I have the opportunity to be part of something really big and exiting. And that being able to see University students for the first time in my entire life and also being able to have one of them as my mentor was even more exiting.
My first mentor was Lady she studied English Literature and Marketing which was a really interesting combination. And it was really nice being able to meet different people and learning about their different experiences as students from the University. One of the best things was going to my very first Mentoring graduation at the University of Leeds which was really fun because I was able to see a completely new city and meet a lot of different people. The best part of it was spending the day with my Mentor and wearing a cap and gown that graduates would normally wear on their big day. Also the team that are working at Into University always encourage us young students to always do our best and help us with our daily progress as young people. And try to give us all the help and support the can offer to us. Also my second mentor which was a Science student also gave some really nice memories. She is studying Biomedicine here at the University of Liverpool and doing a conversion year into Medicine. Which is really interesting because it shows that she is really determined to achieve what she wants and working on it every single day. This has empowered me to never give up and work hard till I achieve my goal. IntoUniversity is a great place for young students like me it is a long journey but the the team and people are always there to support you.
They give you so many different opportunities that you can't get anywhere else with creating so many different trips to different parts of the country to experience new things and that makes it so special for me. This has made a really big impact on me and I really hope to study Medicine here at the University of Liverpool because it is such a great place to study and learn as a young adult.
Thank you for giving me this opportunity and I hope you will keep supporting us as young adults who are growing every single day.
Thank you!"
The Anfield based centre is a collaboration between educational charity IntoUniversity, the University of Liverpool and the Liverpool Football Club Foundation, set up to help young people in the area to do better at school and believe in their ability to get to university. In parts of North Liverpool where the centre operates, the higher education progression rate is as low as 17.5%, less than half the national average (37%).
For more information on how your support can make a difference please visit: www.liverpool.ac.uk/giving.