Santander Universities UK join the University to celebrate partnership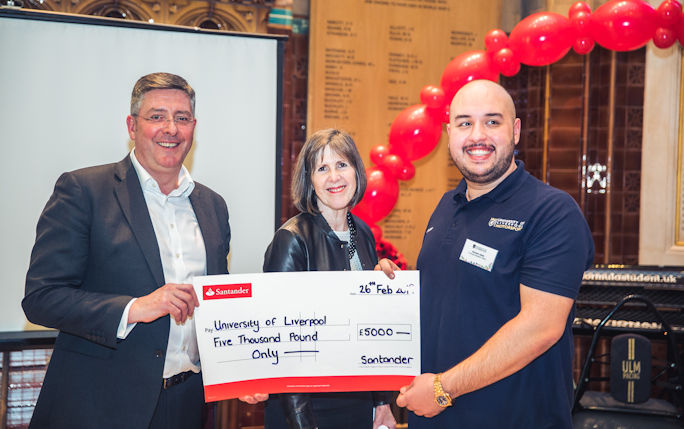 Vice-Chancellor, Professor Dame Janet Beer, hosted a special event to showcase the impact of the ongoing partnership between the University of Liverpool and Santander Universities UK.
Guests were welcomed by the Vice-Chancellor and heard from Dr Paul Redmond, Director of Student Experience and Enhancement, about the University's commitment to student entrepreneurship. Current BA Marketing student and entrepreneur, Beth Heron, spoke of the impact of receiving support from Santander in establishing her Start Up, In2Gin.
Beth said: "I really enjoy what I do. University is a great place to start a business because you've got an unparalleled support system at hand."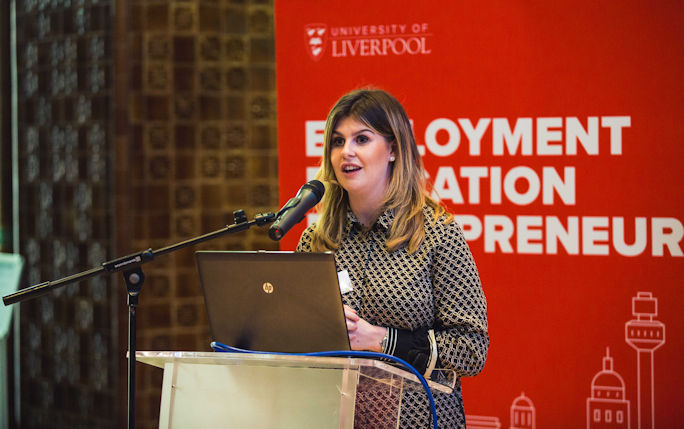 Beth Heron speaking at the Santander Celebration event.
Guests also heard from Director of Santander Universities UK, Matt Hutnell who spoke about the importance and impact of the partnership, before presenting the Formula Student Team with a cheque, alongside the Vice-Chancellor.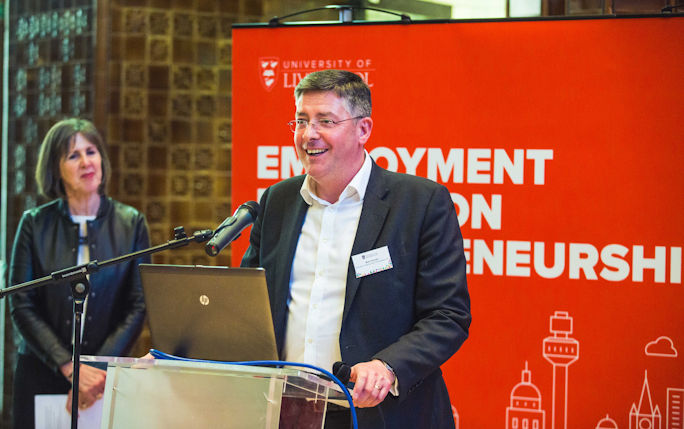 Matt Hutnell speaking at the Santander Celebration Event.
The event offered the student entrepreneurs who have benefited from Santander's support to showcase their businesses to guests. Some of which received funding in the recent Liverpool Start-Up competition run by the University of Liverpool Management School and grants from the Enterprise Fund, run by the Development and Alumni Relations team.
The student finalists of the Liverpool World Challenge Challenge attended and exhibited their competition entry posters. The competition invited students to form diverse teams of three to choose a global issue and design an innovative solution. The winners received a £5,000 investment from Santander as well as return flights to Canada to complete in the World Challenge Challenge Global Finals at Western University for their recycling concept to reduce waste in laboratories.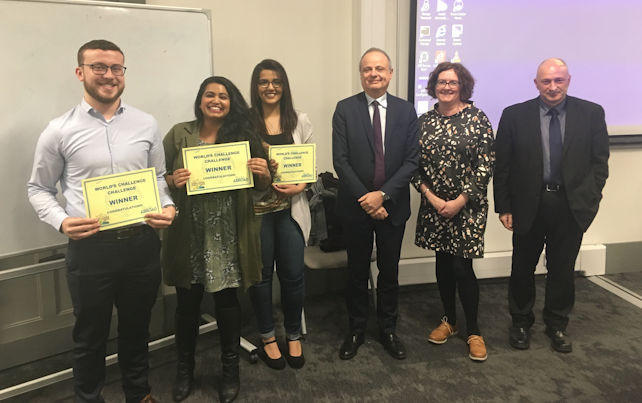 World Challenge Challenge winners, alongside Professor Anthony Hollander, Pro-Vice-Chancellor; Lynne Roberts, Breakthrough Incubator Manager, Santander Business; Professor Simeon Yates, Associate Pro-Vice-Chancellor.
The partnership between the University and Santander Universities UK was established in 2012, since then this has had tremendous impact with the inclusion of 125 graduate placements leading to more than £8,000,000 additional SME turnover, 37 student placement abroad and student intern recruitment from more than 150 Liverpool SMEs.