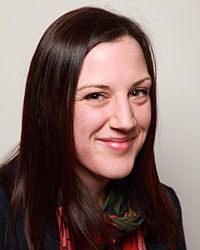 Dr
Lucy
Jackson
Lecturer in Human Geography
Geography and Planning
Biography
Personal Statement
I completed my doctoral research in the Institute of Geography and Earth Sciences at the University of Wales, Aberystwyth in 2012 having also studied for my BA (2006) and MA (2008) at the same institution. My doctoral research, titled 'Alternative sites of citizenship: emotions, performance and belonging for female migrants', focused upon ideas of citizenship as a relational practice recognising it's ever more social and cultural nature.

After leaving Aberystwyth, I moved to the University of Sheffield to work on the ERC funded LIVEDIFFERENCE project, led by P.I Professor Gill Valentine. This project involved five inter-linked projects to explore the extent and nature of everyday encounters with 'difference'. Each of these projects involved collecting original data in the UK and Poland. My research with LIVEDIFFERENCE was conducted within Project C 'Contested Spaces: Group Identities and Competing Rights in the City'. Here, I specifically focused on the spaces of conflict and interaction between pro-life and pro-choice groups, and between faith and secular groups in the UK. After this, I continued working with Professor Valentine on an AHRC project on Intergenerational Justice. This project involved work in Uganda, the UK and China to look at issues around resource use, consumption, and attitudes towards the environment across different generations, involving research with families, communities, and NGOs in each context.

Through this research I've developed a broad interest in the field of critical social geographies, though the research I conduct connects across the social sciences. Through my research I aim to re-address questions of 'the social', not just in terms of social justice, but in terms of socio-spatial politics and the performative politics of everyday life within different societies. Working with theories around everyday practice such as de-certeau and Lebevre I look to bring political philosophy into human geography.

Academic career
2015 onwards: Lecturer in Human Geography, University of Liverpool
2012-2015: Postdoctoral Research Associate, Department of Geography, University of Sheffield
2010-2012: Teaching Associate in Human Geography, Institute of Geography & Earth Sciences, University of Wales, Aberystwyth
2007-2012: PhD, Institute of Geography & Earth Sciences, University of Wales, Aberystwyth.

---