9th July, morning plenary
Dr Hilary Nesi, University of Coventry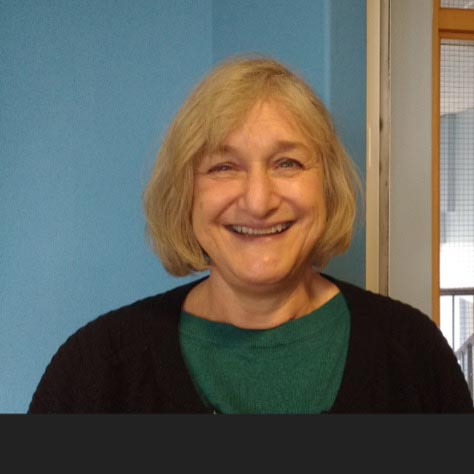 What should we tell students about citing knowledge sources?
Much has been written about the kinds of messages citations in research writing can convey, and the strategies researchers use to maintain relationships with their readers and with other authors. However, although university students do sometimes cite for the same purpose as research writers, "to convince the readers that … claims are justifiable and significant" (Bloch 2010: 222), in most student genres other than the dissertation/thesis the motivations for citation are rather different from those that drive citation in published research. In order to know what kinds of citation patterns to expect from students, and what kinds of patterns to teach, it is important to investigate undergraduate students' uses of sources across disciplines and genres. This talk discusses findings from the British Academic Written English (BAWE) corpus which show that it is not always essential for students to acknowledge sources, and that student citation practices vary quite systematically in accordance with their discipline and their level of study, particularly to suit the type of source they are citing and its role within the text. Although the current advice for students can be useful, we can improve it and make it more relevant to a wider range of writing tasks.
Hilary Nesi's research activities mostly concern English for academic purposes, corpus analysis, and the design and use of reference tools. She edits Journal of English for Academic Purposes and Lingua, and was principal investigator for the projects to create the BASE and the BAWE corpora of British Academic English.
9th July, afternoon plenary
James Simpson, University of Leeds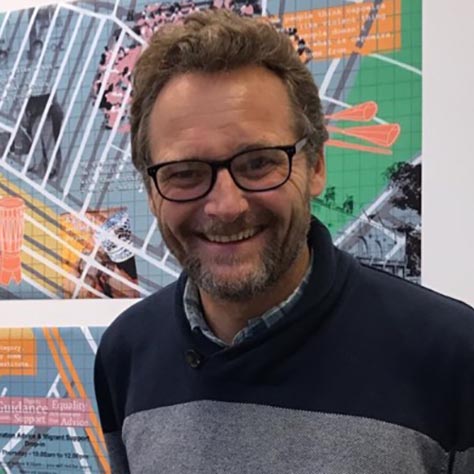 Adult migrant language education: A social justice perspective
My talk covers current issues in research and practice in adult migrant language education in the UK, the field commonly known as ESOL, English for Speakers of Other Languages. Over the past two decades in the UK, as elsewhere in the English-dominant west, the English language has been central to debates and policies about migration, citizenship, nationality and belonging. ESOL has thus become tightly linked to immigration and citizenship policy. With this in mind, I note two current concerns. First, ESOL as currently conceived – in policy circles and in established curricula – is associated with a powerful ideology of 'one nation one language'. This monolingual stance disregards that people develop competence in English as part of a multilingual repertoire – and that ESOL practice has a role in in supporting their multilingualism. Second, bracketing ESOL with social integration betrays an understanding of integration as being primarily the responsibility of the newcomer, instead of recognising settlement and belonging as issues for everyone. Drawing on recent research in urban multilingualism, ESOL policy formation and studies of ESOL practice, I outline some principles for an alternative social justice-informed approach to adult migrant language education, appropriate for conditions of mobility and times of change.
James Simpson is a Senior Lecturer in the School of Education, University of Leeds, UK. His research interests lie in the teaching and learning of English for Speakers of Other Languages in migration contexts, in migrant language learning and arts practice, and in the sociolinguistics of mobility and migration. His work involves the critical analysis of linguistic practices relating to identity and belonging, language diversity, language pedagogy, language policy and literacy. His books include Translanguaging as Transformation (Multilingual Matters, 2020, edited with Emilee Moore and Jessica Bradley), Voices and Practices in Applied Linguistics (White Rose Press, 2019, edited with Clare Wright and Lou Harvey), Adult Language Education and Migration: Challenging Agendas in Policy and Practice (Routledge, 2015, edited with Anne Whiteside), The Routledge Handbook of Applied Linguistics (Routledge, 2011), and ESOL: A Critical Guide (OUP, 2008, with Melanie Cooke). He manages an email discussion forum ESOL-Research, for researchers and practitioners with an interest in adult migrant language education. He is Chair of Trustees of MESH, a charity he founded in 2014 to support adult migrant language education in Yorkshire, England.
10th July, morning plenary
Judit Kormos, University of Lancaster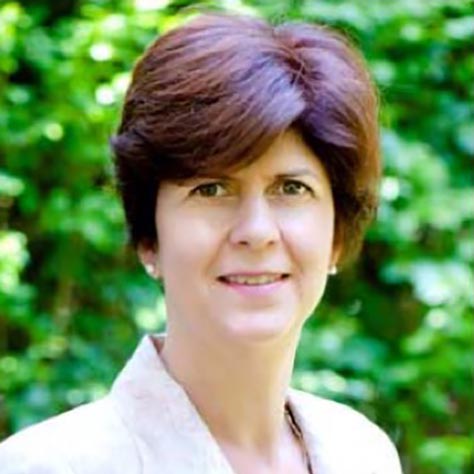 The role of first language predictors in second language text comprehension: A tale of two countries
First language (L1) skills are important foundations for learning additional languages. They also play a significant role in how children, particularly at the early stages of acquiring another language, comprehend texts. L1 predictors of second language (L2) reading performance have been thoroughly investigated in previous research. However, with the wide-spread use of modern technological devices that allow for multi-modal language processing, such as listening to a text while simultaneously reading it, it is necessary to examine an extended range of language comprehension processes. It is also important to uncover how successfully children comprehend L2 texts under time pressure and whether extending the time available for reading a text assists those with L1 literacy-related difficulties. Understanding the role of L1 skills in instructed L2 language learning contexts can help us to predict whether children who have L1 literacy-related difficulties in primary education will face challenges in learning an additional language and can assist in devising effective pedagogical interventions.
In this talk I will first give an overview of what previous research findings reveal about the role of L1 predictors in text comprehension in different modalities. Next I will describe two recent studies we have conducted to examine the contribution of low-level L1 skills to L2 text comprehension outcomes of young learners of English in Slovenia and Hungary. In the Slovenian study, we were also interested in uncovering the potential benefits of multi-modal text presentation for students with different L1 literacy profiles. In the Hungarian study, we investigated whether children with low L1 literacy profiles understand written texts better when they have more time to read. The two studies shed light on the differential role of L1 predictors of reading comprehension in the two contexts. They also have important implications for assessing and developing young L2 learners' text comprehension skills.
Judit Kormos is a Professor in Second Language Acquisition at Lancaster University. She was a key partner in the award-winning DysTEFL project sponsored by the European Commission and is a lead educator in the Dyslexia and Foreign Language Teaching massive open online learning course offered by FutureLearn. She is the co-author of the book Teaching Languages to Students with Specific Learning Differences with Anne Margaret Smith. She has published widely on the effect of dyslexia on learning additional languages including a book entitled The second language learning processes of students with specific learning difficulties. She is the author of multiple research papers that investigate the role of cognitive factors in second language acquisition.
Back to: Department of English