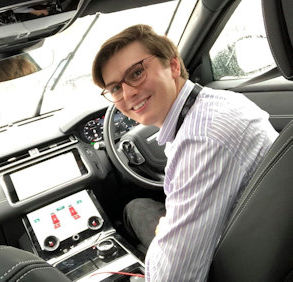 Thomas Kelly
From: Birmingham
My top three tips for getting the most out of University:
1. Take every opportunity you get to broaden your horizons both academically and personally
2. Remember academics are happy to help
3. Take time each day to unwind and rest as this is as important as studying.
---
Why did you choose to study at the University of Liverpool's School of Engineering?
I chose to study Engineering at UoL because of the hands on, practical approach to engineering and learning. I felt that this would equip me well for the engineering world of work.
---
Why did you choose your Engineering course?
Mechanical Engineering gave the most rounded and diverse curriculum that would serve well for a job in any discipline of engineering or stem career.
---
What have you enjoyed most about your student experience?
I have enjoyed the project work the most. Designing something and applying theoretical engineering to create things that solve problems.
---
How have you found the learning experience at University?
I have found the learning experience great at university. The large amounts of practical work has really allowed me to apply knowledge from theory modules.
---
What skills have you developed? What challenges have you faced, and how did you overcome them?
My degree has developed my problem solving and teamworking skills a huge amount.
---
What do you get up to when you are not studying?
When not studying I spent time with friends I made through the vast amount of extra curricular student societies there are available at UoL.
---
What have you enjoyed most about living in Liverpool?
Liverpool is a beautiful city to study in with a diverse culture and vibrant student social scene.
---
Where did you do your industry placement, and what did you do?
I did my placement at Jaguar Land Rover
---
What have you personally got out of your placement in industry?
I have been able to apply knowledge from first two years of my degree and develop my engineering skills:
Teamwork
Planning and Management
Manufacturing processes
Engineering Analysis
Engineering Process and Legislation
Problem Solving
Presentation and Interpersonal Skills