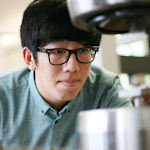 Dr
Ji
Han
PhD MSc BEng CEng FHEA MIED FRSA
Lecturer in Design Engineering and Creativity, Programme Director for Industrial Design and Product Design Engineering
Civil Engineering and Industrial Design
Research
Research Overview
Dr Ji Han's research focuses on design creativity, computational design creativity, and data-driven design as well as design engineering, AI in design, design neuro-cognitions. His research addresses various topics relating to design and creativity, and places a strong emphasis on exploring new design theory and developing advanced design support tools. He is the first design researcher who leveraged the understanding of combinational creativity and applied this within computational tools. Ji's interdisciplinary Creativity and Innovation research group is working at an intersection of design, computer science and neuro-cognition, focusing on three themes: design creativity, computational creativity and design neuro-cognition.

Design Creativity
This involves investigating fundamental theories, methods, and approaches of creativity in design research. He has explored how combinational creativity is driven and produced in design, as well as investigated the conceptual distance issues in combinational creativity. Besides, he has also investigated how design creativity, functionality and aesthetics are related to one another in the context of product design.
His research on exploring the conceptual distances in combinational creativity and the relations among design creativity, functionality and aesthetics have been awarded the 'Outstanding Contribution Award' and the 'Reviewers' Favourite' by the Design Society in the International Design Conference 2018 and International Conference on Engineering Design 2019, respectively.
Computatioal Design Creativity
This includes exploring the use of the latest computational techniques, such as machine learning, and natural language processing, to support designers in creative design activities. He has explored several computational tools for supporting designers in creative idea generation, which includes the Combinator, the Retriever, B-Link, and so on.

The Combinator is based on imitating how human produces combinational creative ideas, which produces combinational ideas in text and image forms. For more details, please see: Han J.*, Shi F., Chen L., Childs P. R. N., 2018. The Combinator – A computer-based tool for creative idea generation based on a simulation approach. Design Science, Cambridge University Press, 4, p. e11. doi: 10.1017/dsj.2018.7.

The Retriever is a creative idea generation support tool based on ontology by embracing the aspects of analogical reasoning. For more information, please see: Han J.*, Shi F., Chen L., Childs P. R. N., 2018. A computational tool for creative idea generation based on analogical reasoning and ontology. Artificial Intelligence for Engineering Design, Analysis and Manufacturing. 32(4). 462-477. doi:10.1017/ S0890060418000082.

B-Link is a data-driven tool which is mainly used to design information retrieval, but could also be used for supporting creative idea generation in a Brainstorm manner. For more details: 11. Shi F.*, Chen L., Han J., Childs P. R. N., 2017. A Data-Driven Text Mining and Semantic Network Analysis for Design Information Retrieval. Journal of Mechanical Design, 139(11), p111402. doi: 10.1115/1.4037649.
Others
Ji is also working on other areas which include AI in Design, Design Neuro-cognitions, and Design Education.