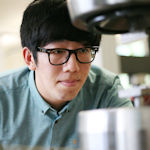 Dr
Ji
Han
PhD MSc BEng
Lecturer in Design Engineering and Creativity
Civil Engineering and Industrial Design
About
Personal Statement
Ji Han is a Lecturer (Assistant Professor) in Design Engineering and Creativity at the University of Liverpool, as well as the Programme Director for Industrial Design. His research interests focus on design creativity and computational creativity. His current research projects investigate: creative idea generation, the development of computational creativity tools, combinational creativity, design-by-analogy, ontology in design, data-driven design, AI in design, and the application of virtual engineering technologies in creative ideation.

Prior to joining the University of Liverpool, he conducted his PhD under the supervisions of Prof. Peter Childs and Dr. Marco Aurisicchio in the Dyson School of Design Engineering at Imperial College London. As part of his PhD, Ji developed several computational design support tools, such as the Combinator, the Retriever, B-Link and AI image synthesis, by using state-of-the-art technologies such as data mining, natural language processing, image processing, semantic net, big data and artificial intelligence. He obtained his masters degree in Engineering Design from the University of Bath and he was supervised by Prof. Richard Butler.

Prospective PhD students interested in any of the above research areas are encouraged to send an email to ji.han@liverpool.ac.uk.
China Scholarship Council (CSC) sponsored students and self-funded students are welcome.
Prizes or Honours
Reviewers' Favourite (The Design Society, 2019)
Outstanding Contribution Award (The Design Society, 2018)
Imperial College Trust (Imperial College London, 2017)
The Excellent Intern (Chinese Academy of Sciences, 2011)