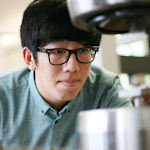 Dr
Ji
Han
PhD MSc BEng CEng FHEA MIED FRSA
Lecturer in Design Engineering and Creativity, Programme Director for Industrial Design and Product Design Engineering
Civil Engineering and Industrial Design
About
Personal Statement
Dr Ji Han holds an Assistant Professor/Lecturer position in Industrial Design at the University of Liverpool. He is the founding Programme Director of Product Design Engineering MEng/BEng (with Year in Industry), a modern engineering degree that provides students with an excellent technical grounding in engineering and a specialisation in design engineering and new product development, preparing students for a successful career in industry. He is also the Programme Director of Industrial Design MEng/BEng. In addition, he is the Admissions Tutor, Open Day and Applicant Discovery Day Lead, and Xi'an Jiaotong-Liverpool University (XJTLU) Link Tutor of the two programmes, managing the overall organisation, coherence, and admissions. He is a member of various school panels and committees, such as school scrutiny panel, school student experience committee, board of studies, and student staff liaison committee. Besides, he is the module coordinator and teacher of Product Development 2 and Consumer Electronics, which are the core design modules in the curriculum. Ji is also the Co-Director of the Systems Realization Laboratory @ UoL and the research lead of Creativity and Innovation. Prior to joining the University of Liverpool in May 2018, he conducted his PhD in Design Engineering in the Dyson School of Design Engineering at Imperial College London where he received his PhD degree under the supervisions of Prof Peter Childs and Dr Marco Aurisicchio

Dr Ji Han has published over 40 peer-reviewed journal papers and conference proceedings since 2016. He has participated in a number of top international design and engineering conferences, and delivered several oral presentations which have received very positive feedback. Ji is the best paper award winners of the 22nd International Conference on Engineering Design (ICED19) and the 15th International Design Conference (Design 2018), as well as the winners of the Faculty Learning, Teaching and Student Experience Award 2019/20.

Ji is currently the primary supervisor of 4 PhD students, and the co-supervisor of another 8 PhD students, working on various research fields relating to design. He has 2 visiting academics working on evaluation indicators of ideation effectiveness and creativity in cultural and creative industries. Besides, he has supervised over 10 undergraduate students on their final year design projects, and acted as the academic advisor for more than 15 undergraduate students. Externally, Ji has served as a technical reviewer for more than 20 international journals and conference proceedings, and a member of the Scientific Advisory Board of the International Design Conference DESIGN and a member of the Scientific Committee for the International Conference on Engineering Design.

Prospective PhD students interested in any of the above research areas are encouraged to send an email to ji.han@liverpool.ac.uk.
China Scholarship Council (CSC) sponsored students and self-funded students are welcome.