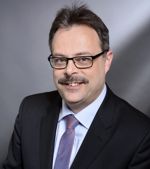 Prof
Dirk
Schaefer
MS PhD EurIng CEng CTPD MIED CSci FIMA CITP FBCS PGCertHE FHEA IngPaedIGIP
Professor and Chair in Industrial Design | Head of Division
Civil Engineering and Industrial Design
About
Personal Statement
Dirk Schaefer is a Professor and Chair in Industrial Design at the University of Liverpool in the United Kingdom (UK). He previously held academic positions at the University of Bath (UK), the Georgia Institute of Technology (United States), and the University of Durham (UK).

Prof. Schaefer is spearheading internationally leading research on Cloud-based Design and Manufacturing (CBDM) and Social Product Development (SPD), which are high-impact areas in the context of Industry 4.0 and Cyber Physical Systems (CPS) for Product Creation and Production Engineering. CBDM and SPD are aimed at advancing the democratisation of innovation, design, and manufacture in the globalised interconnected world. His research group coined the term CBDM, and in 2014 he published the first two books on Cloud-based Design and Manufacturing and Product Development in the Socio-sphere. A third volume in Springer's Advanced Manufacturing Series, Cybersecurity for Industry 4.0: Analysis for Design and Manufacturing, appeared in 2017.

Prof. Schaefer is also known for his research on product modelling, variant design, design-with-manufacture integration, standardised product data exchange, as well as digital and virtual engineering. Over the years he has made many contributions to the advancement of Cross-disciplinary Integrated Design of Mechatronic Systems.

Prof. Schaefer has more than twenty five years of experience in Computer-aided Engineering, Design and Manufacturing, both in industry and academia. He earned a PhD in Computer Science (Dr. rer. nat.) with a focus on Computer-aided Product Development Systems from the University of Stuttgart (Germany), a MS in Mathematics (Dipl.-Math.) with a focus on Computer-Aided Geometric Design from the University of Duisburg (Germany), and an Advanced College Certificate in Mechanical Engineering. Prof. Schaefer started his career as a toolmaker with one of Germany's leading metal forming companies, where he specialised in CNC machining and the design and manufacture of compound tool sets for knuckle joint presses. In addition, he worked as a Software Engineer developing CAD technology for an international Civil Engineering company and as a consultant to industry.

Prof. Schaefer has served as a reviewer for more than 50 international academic journals, national and international funding organisations, and frequently organises conferences in his field. His accomplishments include more than 160 publications in journals, books and conferences. He has delivered more than 110 talks at events all over the world and supervised more than 120 students on PhD, MS, BS and other research and development projects.

Prof. Schaefer is a registered Professional Engineer in Europe (Eur Ing), a Chartered Engineer (CEng) and Chartered Technological Product Designer (CTPD) in membership of the Institution of Engineering Designers (IED), a Chartered IT-Professional (CITP) and Fellow of the British Computer Society (FBCS), and a Chartered Scientist (CSci) and Fellow of the Institute of Mathematics and its Applications (FIMA) in the UK. He also is a member of the Design Society (DS), the American Society of Mechanical Engineers (ASME), the Institute of Electrical and Electronic Engineers (IEEE), the Association for Computing Machinery (ACM) and the American Society for Engineering Education (ASEE).
Prizes or Honours
Best Paper Award (Reviewers Favourite), 2019 International Conference on Engineering Design (ICED) (The Design Society, 2019)
Excellent Presentation Award, 10th International Conference on Systematic Innovation (ICIS) (International Society of Innovation, 2019)
Distinguished Visiting Scholar, School of Mechanical Engineering (Beijing Institute of Technology, China, 2019)
2017/18 Faculty Learning and Teaching Award "for leadership in planning, orchestrating and delivering excellence in design education" (Faculty of Science and Engineering, University of Liverpool, UK, 2018)
2017/18 School of Engineering Recognition Award "for contributions to teaching and learning." (School of Engineering, University of Liverpool, UK, 2018)
Distinguished Visiting Scholar (June 2018) (Beijing Institute of Technology (BIT), School of Mechanical Engineering, China, 2018)
Outstanding Contribution in Reviewing Award: Journal of Manufacturing Systems (Elsevier, 2017)
Outstanding Contribution in Reviewing Award: Journal of Advanced Engineering Infromatics (Elsevier, 2016)
Outstanding Contribution in Reviewing Award: Journal of Advanced Engineering Informatics (Elsevier, 2014)
Thank a Teacher Program Award "in appreciation of your advising style and dedication to helping students learn" (Center for the Enhancement of Teaching and Learning, Georgia Institute of Technology, USA, 2013)
Mechanical Engineer of the Year Award (Atlanta Section) (American Society of Mechanical Engineers (ASME), USA, 2013)
Excellence in Reviewing Award: Journal of Advanced Engineering Informatics (Elsevier, 2013)
SAIC Award "for advisement that contributed to student achievement in the SAIC - Georgia Institute of Technology Student Paper Competition for the Paper entitled: A Semantic Association Hardware Acceleration System for Integrated Product Data Management" (Science Applications International Corporation (SAIC), Atlanta, GA, USA, 2012)
Thank a Teacher Program Award "in appreciation of your teaching style and dedication to helping students learn in Mechanical Engineering 6101 and 6102" (Center for the Enhancement of Teaching and Learning, Georgia Institute of Technology, USA, 2012)
ASEE Annual Conference Best Paper Award (PIC V) (American Society for Engineering Education (ASEE), 2010)
SAIC Award "ffor advisement that contributed to student achievement in the SAIC - Georgia Institute of Technology Student Paper Competition for the Paper entitled: A Framework for Developing a Cohesive Set of Remote Laboratories for Distributed Distance Learning Settings" (Science Application International Corporation, Atlanta, GA, USA, 2009)
Frontiers of Engineering Education (FOEE) Invited Participant (National Academy of Engineering (NAE), Arlington, VA, USA, 2009)
---