Dr Benjamin SALEM Set up a partnership with BT Applied Research and MTC on Robotics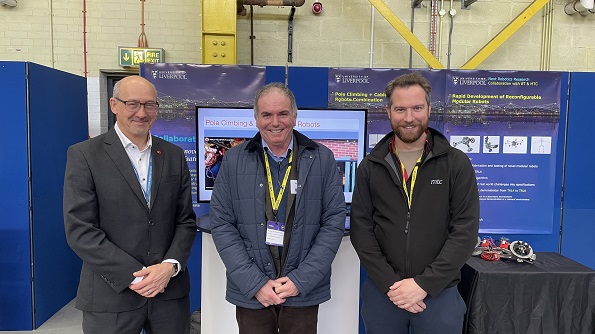 Dr Benjamin SALEM met with Mr Jon WAKELING (Acting Director BT Applied Research) and Mr Phililp JACKSON (Technical Specialist Manufacturing Technology Centre) at the opening of the BT Robotics Laboratory on 4th November 2021, to agree on a consortium for the launch of a project on: Rapid Development of Reconfigurable Modular Robots.
A three years projects lead by the University of Liverpool with industry partners (BT & MTC).
The main objectives of this project are :
To further the approach and methodology developed so far for therapid design, fabrication and testing of novel modular robotics platforms.
To develop a methodology for the rapid translation of a real world challenge into requirements and specifications of a reconfigurable modular robot.
To use the BT overhead challenge as one of the testing scenario
To further develop prototype demonstrator from TRL 4 to TR6
To conceive, develop and demonstrate to TRL4 a reconfigurable modular robot for industrial applications using our own R&D methodology
To develop and implement a reconfiguration algorithm
TRL 4 Technology basic validation in a laboratory environment
TRL 6 Technology model or prototype demonstration in a relevant environment
First step of the project will be to apply for funding for a research grant.
With thanks to the University's Research, Partnership & Innovation Bureau for their help and support.