ID Employability and Careers
Here at the University of Liverpool we pride ourselves of preparing highly successful and sought-after graduates ready to hit the ground running. Consequently, the University offers a wide variety of opportunities for students to continuously enhance and hone their employability-related competencies and skills.
The University Careers and Employability Services allow you to search databases for graduate jobs, placements, internships, part-time positions and to attend careers events.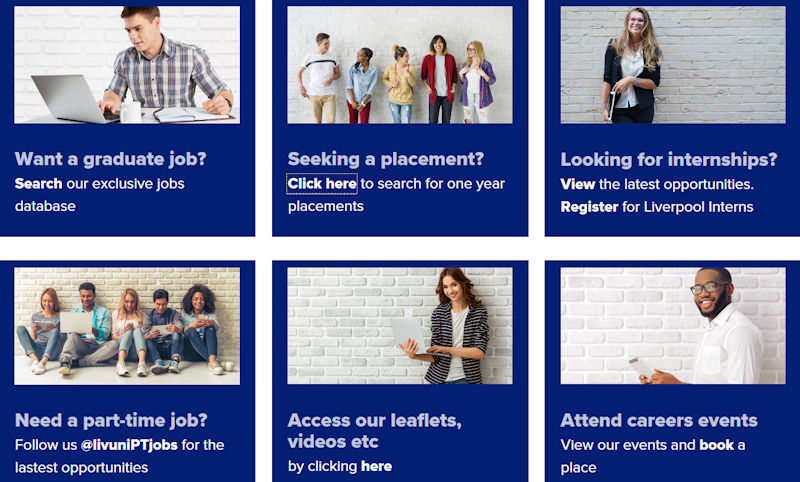 ‌‌
Please visit their website for further information.
Industrial Design Opportunities
The Division of Industrial Design in the School of Engineering also has a wealth of links to relevant companies in the industry offering internships or placements, career talks, guest lectures and more. Industrial Design students seeking opportunities are advised to initially visit the University Careers and Employability website or to consult School of Engineering Employability Lead Dr Ben Salem for guidance.
Companies interested in offering career opportunities (jobs, placements, internships, design projects, guest lectures, etc.) for Industrial Design students are asked to initially contact design@liverpool.ac.uk in the Division of Industrial Design
Upcoming Talks and Events:
| Date | Speaker (Affiliation) | Topic Event |
| --- | --- | --- |
| | | |
| Past Events | | |
| 31 January 2020 | Sam Gwilt (Precipice Design, London) | Design portfolio guest lecture and surgery |
| 2/3 May 2019 | Martin Ould (University of Bristol) | 2-day Workshop: Problem Solving and Creativity in Design |
| 21 February 2019 | Emma Lewis (Eaton) | The Power of Design Engineering |
| 28 February 2019 | Dr Caroline Simcock (Dyson) | Why Engineering Design...and some tips 20 years on |
| 21 November 2018 | Dr Joanne Phoenix and Jaime Mora (Sensor City) | Excursion to Sensor City: A flagship University Enteprise Zone |
| 22 November 2018 | Dr Jitesh Panchal (Purdue University, USA) | Research Seminar: Designing Crowdsourcing Contests for Engineering Systems Design |
| 23 October 2018 | Wyn Jones (Design Reality) | Employability Talk: How to setup and run a successful Design Consultancy |
| 25/26 May 2018 | Martin Ould (University of Bristol) | 2-day Workshop: Creativity in Design |
| 15 March 2018 | Hannah Forbes (Sky and Now TV, London) | Industry Seminar: Crowdfunding |
| 14 March 2018 | British Industrial Design Association (BIDA) | Joint University of Liverpool (Industrial Design)-BIDA careers event |
| 8 February 2018 | Dr Paul Morley (Kannegiesser, UK & Institution of Engineering Designers) | Employability Talk: What is Professional Registration for Engineers, and why should you bother? |
| 1 December 2017 | Lisa Layzell (Ridia Consulting) | Guest Lecture: Innovation and Mutual Value Creation |
| 14 November 2017 | Eric Woodcock (Fellow of the Royal Society of Arts) | Excursion to Edge Hill University: "Is good design all about form follows function?" |