Industrial Design
Undergraduate programmes
Industrial Design MEng (Hons)
UCAS CODE: 6G11
PROGRAMME LENGTH: 4 YEARS
The MEng programme provides students with additional breadth in modern theory, methodologies and best practices in new product development. It is a four-year MEng programme that gives individuals a broad and extended education at an advanced level including a dedicated stream of Product Design content. With a good knowledge of the process and management of design, graduates are well placed to play an important role in new product development, which is a top management priority in industry today.
More about Industrial Design MEng (Hons)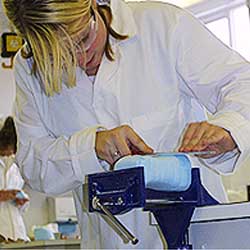 Industrial Design BEng (Hons)
UCAS CODE: 3D52
PROGRAMME LENGTH: 3 YEARS
Students will study in depth the latest industrial and product design techniques. They will learn about the use of materials and manufacturing processes in modern product development and develop the fundamental skills required to design today's complex products. It is suitable for individuals who are passionate about design and developing products that are underpinned by engineering. This particular programme is for those that do not wish to pursue a four-year degree programme.