The Travelling Sketchbook by Paul Gatenby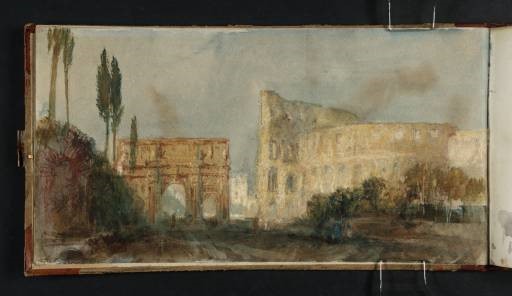 The Travelling Sketchbook by Paul Gatenby
Introduction
The course was initially planned as a mix of theoretical work in the seminar room accompanied by drawing excursions into the city for the practical elements. Coronavirus put that on hold for the time being but we can still explore some of the historical and indeed practical themes from home whilst keeping within the rules for social isolation. For the drawing demonstrations I'll make use of the sort of pencils and pens everyone has at home although I will include some notes on materials which will be useful when things get back to normal. I do hope you enjoy this blog.
Historic background
The travelling Sketchbook is not a new idea, it dates at least as far back as Albrecht Durer, (1471 – 1528). Durer twice visited Italy and whilst crossing the Alps he produced water colours of places he passed through such as this painting of the town of Arco. These drawing were not only early examples of plein air painting but are amongst the earliest paintings where the landscape alone is the subject matter – as opposed to landscape acting as the 'backdrop' to a portrait or figure composition. These drawings remained in Durer's studio and were never developed into full scale paintings yet they clearly have a sense of completeness, as if we can see the artist thoroughly engaging with the observed scene.
Albrecht Durer, 'View of Arco' 1495
Landscape really came into maturity in 17th century Netherlands. Artists such as Hobbema (1653 – 1709) would go out with a sketchbook and record scenes which would provide the basis for paintings back in the studio. Many of Rembrandt's (1606 – 1669), wonderful ink or chalk drawings are clearly done from life; not only landscapes but character studies and figure groups observed and recorded in masterful visual shorthand.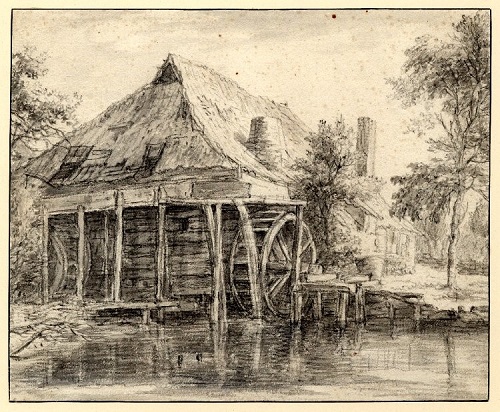 Attributed to Meinhart Hobbema
'Tobit reading the Bible to his Wife Anna', Rembrandt.
Surely drawn from life despite the biblical title, note the cat under the table for instance
Part Two; The 19th Century
The lives of three great exponents of the sketchbook overlapped in 19th century England, John Constable, (1776 – 1837), JMW Turner (1775 – 1851) and John Ruskin, (1819 – 1900).
Constable famously produced studies 'en plein air' including countless stunning renderings of skies in all weathers. He pioneered the approach of engaging with nature as opposed to the classicism prevalent at the time.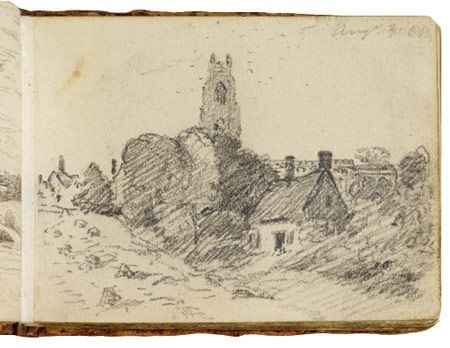 The image above is from an actual Constable sketchbook from 1814, now in the Victoria and Albert Museum, London
Arguably the supreme sketchbook artist was JMW Turner. Turner used sketchbooks throughout his life and had dozens of volumes, the Tate collection currently has some 280 sketchbooks (almost all the extant volumes) but there were certainly more and many individual works on paper are thought to have been originally bound into sketchbooks. The books are testament to his both travels and his experiments with materials. The image below of Rome is from his visit to Italy in 1819-20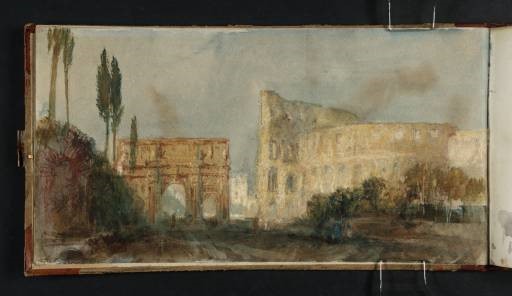 JMW Turner, Rome 1819, Sketchbook, 130mm x 255mm (approx. 5 x 10 ins)
Turners great admirer, John Ruskin, believed everyone should learn to draw; so much so that he founded a Drawing school in Oxford which still functions. His collection of teaching materials is held at the Ashmolean museum in Oxford and much of it viewable online at ruskin.ashmolean.org. He was himself an accomplished draughtsman and recorded his travels around Europe most notably Venice.
Around 1840, paint became portable; (that is to say available in collapsible metal tubes as we buy it today). This may seem like a relatively minor technological development yet suddenly plein air painting became much more convenient and was brought to a now legendary fruition by the Impressionists. (Very likely why we use the French term 'en plein air' rather than 'outdoors').
Claude Monet (1840 – 1926), 'Luncheon on the grass' c1865
Of course, they hadn't invented painting out doors but unlike Constable and Turner (whom the Impressionists greatly admired), they exhibited their plein air works as finished paintings and furthermore, produced studio work which aimed to capture the feel of a of a rapidly executed, directly observed painting. In the 20th century many painters, notably Picasso and the Cubists, took a different direction with art which was studio made and inspired by the intellect rather than the senses yet the influence of the Impressionists continued to (and still do) exert an influence. Indeed we seem to be living through a renewal of interest in plein air painting even in the rainy UK!
The internet and the Urban Sketching phenomenon.
Paint in tubes was not the last time that technology kick started a change in art. The internet has enabled artists and lovers of art to expand their range of influences at the touch of a button. Additionally, as an interactive phenomenon, the internet has facilitated the formation of groups of artists who can exchange ideas and share their work all over the globe.
In 2007 an illustrator working in Seattle, named Gabriel (Gabi) Campanario, began sketching his home city in his spare time and sharing the results online. Other people began joining in and by 2009 Gabi was able to register Urban Sketchers as a non-profit making group in the USA. The idea took off exponentially and is now happening quite literally all over the world. Merseyside alone has groups in Liverpool (founded by me in 2015), Wirral, Southport, St Helens. There are groups in Manchester, Stoke-on-Trent, Preston, Birmingham, London, Glasgow, Edinburgh and more besides. The informal nature of Urban Sketchers makes it very easy to set up, basically you just do it, publicise the dates on social media and wait for artists to turn up!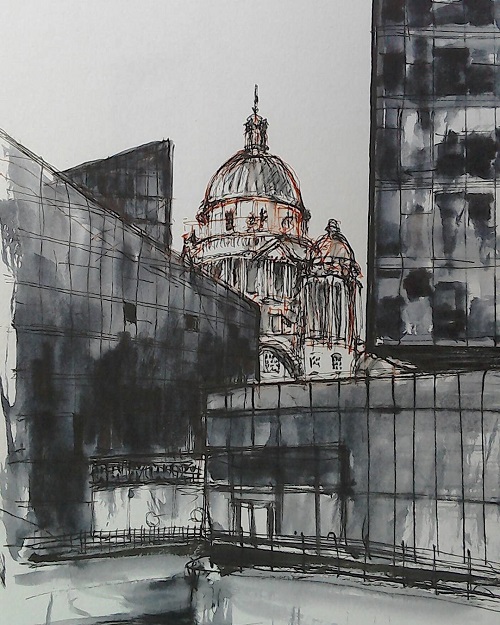 Urban Sketch by Paul Gatenby
I would be a mistake to say that Urban Sketching is a 'style'. Approaches to sketching are varied, some artists will bring an easel and stool and effectively paint plein air, others seem to see it as a challenge as to how minimal they can get with equipment. One key element to Urban Sketching – certainly in Liverpool at any rate, is that it is a social phenomenon; very much about meeting other artists and sharing ideas.
You can sketch wherever you go, this one is the Brandenburg Gate in Berlin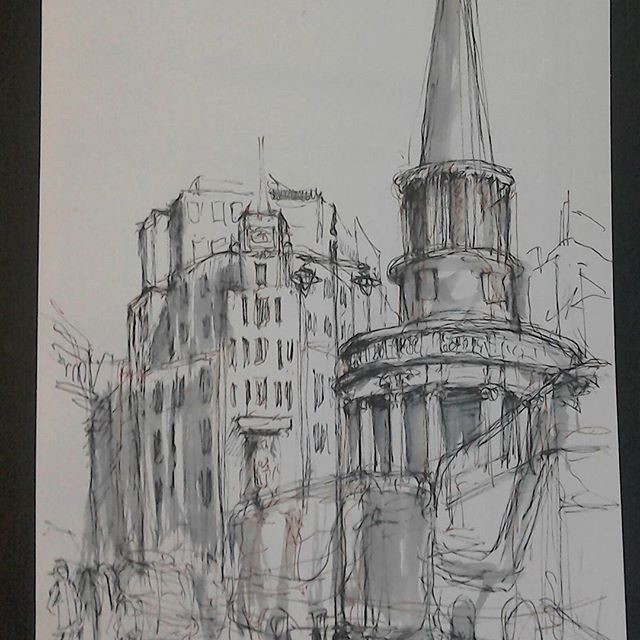 Broadcasting House, BBC by Paul Gatenby
Some useful websites:
For artist's sketchbooks:
Victoria and Albert Museum (Constable), vam.ac.uk
Tate Gallery, (Turner), tate.org.uk
John Ruskin, ruskin.ashmolean.org
Urban Sketching: urbansketchers.org – see also Facebook for various groups such as Liverpool Urban Sketchers
For more of the author's work: instagram.com/paulg.art/