Ni Lernu Esperanton! (Let's Learn Esperanto!)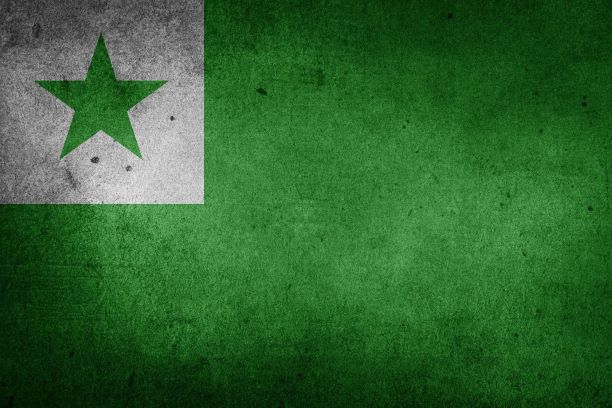 By Jessica lubini-Hampton
Zocca (Modena), Italy – Summer 1998. Trying to pass the long hours of a very hot afternoon, I was mindlessly flicking through a music magazine when my attention was finally caught by an article on the language of hope: Esperanto. The author described Esperanto as a language created from scratch at the end of the 19th Century by Polish ophthalmologist, Dr Zamenhof. Through the invention and dissemination of Esperanto, Zamenhof's intention was to encourage peace at a global level; Esperanto would act as a neutral language to allow for a non-nationalist approach to international communication.
In order to achieve this, Esperanto was designed with a very easy-to-learn grammar and a straightforward pronunciation system, whose vocabulary takes inspiration from mainly Germanic and Latin-based languages. I was instantly convinced by these ideals and felt compelled to learn Esperanto, but how? I lived in a tiny remote village where the internet had not yet enlightened and broadened the horizons of its inhabitants. The magazine failed to mention ways in which aspiring Esperantists could get in touch with speakers of the language and dawned by a sense of isolation I immediately refrained from being carried away any further and abandoned the idea completely. Until... 2018 when I was given the chance to study Esperanto for my doctoral thesis! By researching this thriving community of speakers I hope we can understand better ways to protect and promote other minority languages.
It is now 2020, internet connection is everywhere and with it comes the myriad of ways we can learn languages, make connections and open our mind to new cultures. By attending the beginner's course of Esperanto, you will have the chance to get to grasps with the basics of the language and also learn so much more about the extremely varied and multi-faceted cultural package shared by its speakers all over the world. The course will end with a walk through the streets of Liverpool which will allow us to explore the connections between the city and Esperanto through history and will ultimately serve as an opportunity to discover both from a new perspective.
In the meantime, why not have a look at the links below for more information on Esperanto and its presence in Liverpool.

John Buchanan Masterclass and other research at the University of Liverpool
The University of Liverpool has been a centre for Esperanto since the movement began. In 1889 it hosted the first lecture on the language, delivered by Dr Richard J Lloyd. Dr Lloyd went on to teach the first Esperanto course here in 1903 and by 1907 the Liverpool Esperanto Society was large enough to merit its own office.
Nowadays the University still runs a range of events. For example, the Department recently hosted a three-day conference entitled "The John Buchanan Masterclass" in partnership with the Esperanto Association of Britain. Delegates from the UK and abroad attended sessions on language, literature and culture catering for both beginners and those familiar with the language.

This year's Annual Buchanan Lecture has expanded to encompass three lectures, and a taster session to learn the basics of Esperanto. Lectures in Esperanto and English including such diverse topics as 'Emperors and eastern campaigns' (Professor Geoffrey Greatrex, University of Ottawa) and 'Documentation of minority languages' (Jessica Iubini-Hampton, Buchanan PhD student (grant awardee) University of Liverpool).
For more information click here, for details on Buchanan Esperanto Day click here.
Esperanto groups in Liverpool
La Liverpoola Esperanto-Rondo is a local group of Esperanto enthusiasts who meet on the third Saturday of each month at the World Museum. To check exact dates, time and location of their upcoming meetings, get in touch by messaging the group on their Facebook Page @LaLiverpoolaEsperantoRondo
Jessica will be teaching a beginners course in Esperanto for 12 weeks from Wednesday 5 February - for more information on that course and to enrol click here.