Continuing Education at the Petrie Museum, University College London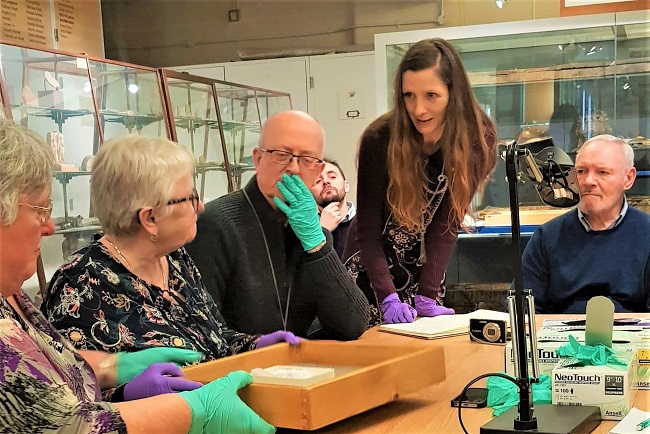 Face to Face with Early Egyptians at the Petrie Museum, University College London by Dr Joanne Backhouse
It was with much excitement on the morning of 18th April we set off for a trip to the Petrie Museum, part of University College London. Some student made their own way there, but the majority travelled with me from Liverpool Lime Street. The museum has an excellent collection of objects from ancient Egypt, many excavated by Flinders Petrie and others were part of the collection of Amelia Edwards, co-founder of the Egypt Exploration Fund (now Society) and writer of A Thousand Miles Up the Nile, who did much to promote the scientific excavation of Egypt at the start of the 20th Century. The Museum is particularly rich in Predynastic and Early Dynastic objects (c.4400 – 2686 BC), so this made an excellent optional study visit to the Before the Pyramids: The Early Artists of Egypt class, which many of the student were also undertaking with me. However, this was a standalone trip and several new students joined us for the day.
Upon arrival at the museum we were greeted by Anna Garnett, a former student of the University of Liverpool and now curator of the Petrie Museum. Anna gave us a guided tour of the museum and explained some of the history. We were fortunate that Anna had agreed we could have a handling session, examining in detail some of the wonderful objects in the collection. Here I am explaining the function of an ancestor bust (Fig. 1).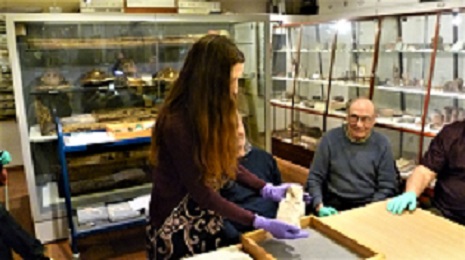 These objects were used in the New Kingdom (c. 1500 – 1069 BC) for household worship and veneration. We studied a wide selection of objects which generated much discussion (Fig. 2).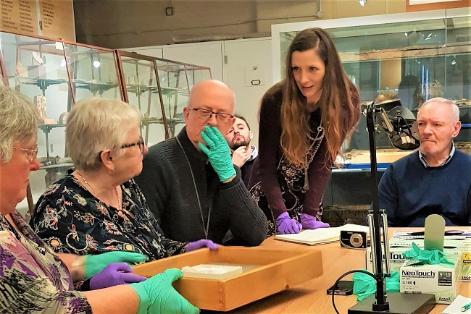 After the handling sessions we had ample time to enjoy the galleries at our leisure. They are packed with fascinating objects from all periods of ancient Egyptian history. I am sure the students had their personal favourites. Although spoilt for choice, I was delighted to see a figurine I had read about and included in my research in the past (Fig. 3).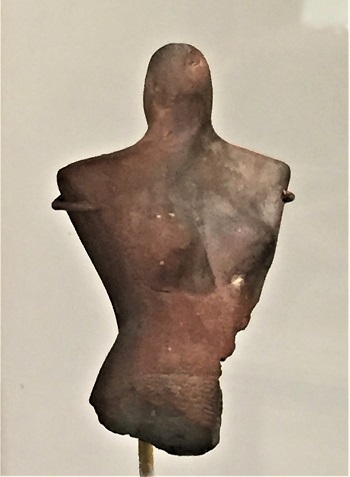 Although this looks like it could have been created by Picasso, it dates to c.4000 BC. The figurine has been on tour and part of a modern art exhibitions in 2015 'Simple Shapes', which considered the inspirations of modern artists. I was also thrilled to see a rare example of a beaded dress (Fig. 4) which dates to c. 2400 BC. The edge of the dress has 127 shell, each containing a small stone which would have rattled when the wearer moved.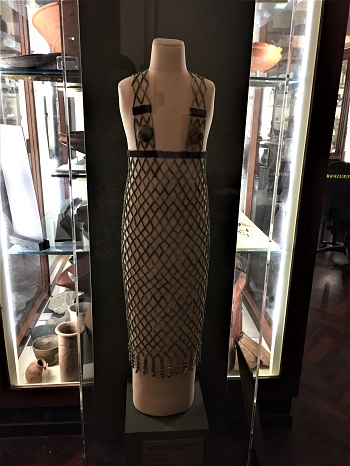 After an exciting and action packed day we made our way back to Euston and considered the wonderful objects we had seen. All in all, it was a day well spent. Thank you to the Petrie Museum for such a wonderful visit!
Look out for Dr Joanne Backhouse's CE courses in 2019/20 from mid-July 2019.